Archive for the 'Teaching Jobs' Category
Teaching English abroad can be both personally and professionally rewarding. This is especially true for those who are really passionate about teaching. Countries like Korea, Japan, China, Thailand, Czech Republic, Saudi Arabia and Mexico offer great jobs for those who want to teach English abroad.
In the past few decades, teaching English as a second language abroad has become a great option for many Americans. This is because it offers them the opportunity to earn money, see the world and explore different customs and cultures. Typically, ESL teachers must have at least a bachelor's degree. However, they may also be allowed to teach even without one in some places as long as they are able to obtain an accredited TEFL or TESOL certifications.
The following are countries that Americans often go to teach English along with their pros and cons.
South Korea
South Korea has one of the largest English teaching markets in the world. This is mainly because of the South Korean government's effort to improve English skills in children and adults. About 2,000 to 3,000 jobs open almost every month for ESL teachers. Today, big companies in the country prefer applicants who have good written and verbal English skills.
What is great about working as an ESL teacher in South Korea is that jobs are available the whole year round. Salaries are generous at around $1,800 to $2,200 every month depending on the exchange rate. Tax is only 5 percent. Applicants in the United States may be offered free airfare if they qualify for the chance to live a comfortable lifestyle in South Korea. ESL teachers may have to work from 25 to 30 hours a week. They receive paid vacations and holiday benefits.
When it comes to salary and work environment, nothing beats South Korea. Most companies in the country will pay for the teacher's accommodation, airfare and other benefits. This is why many American instructors prefer to work in South Korea. South Koreans are prompt with payments, and instructors can stretch their income a lot compared to other countries.
Japan
Japan has one of the longest traditions when it comes to hiring English teachers. This is because the government demands that English is taught in public schools from age five until high school. ESL teaching jobs are also available in Japan the whole year round. English teachers receive an average monthly pay of $2,500 to $2,800.
Depending on the school or program, housing benefits and accommodation may be paid or subsidized. ESL teachers in Japan may teach in private language schools, public schools and even large companies.
China
China's English teaching market is also flourishing. It has become one of the most preferred destinations for native English speakers who wish to work as ESL instructors. The biggest advantage of working in China is that the pay is relatively high while the cost of living is low. With this, ESL teachers are able to enjoy a comfortable life.
English instructors who wish to work in major cities like Shanghai and Beijing should definitely have a bachelor's degree and TEFL certification. In smaller towns and cities, even those who have not completed a degree may be qualified as long as they have a TEFL certification.
ESL teachers earn an average salary of $950 to $1,900 with a potential savings of $250 to $450 every month. Chinese English schools sometimes offer a one month bonus for teachers who completed their 12-month contract. The typical hiring process includes a phone or in-person interview.
The only problem that many ESL teachers face while working in China is that the majority of Chinese people can't speak English. With this, it can be difficult for foreigners to communicate with people outside of school.
Thailand
Bangkok, Phuket, Chiang Mai and Pattaya are just some of the major cities in Thailand that demand a large number of English instructors. ESL teachers should have TEFL certification to work in Thailand. They can also find jobs all year. Unfortunately, Thailand offers less pay than the other Asian countries. American teachers only earn an average of $750 to $1000 monthly. Additionally, there is a high cost of living in areas like Phuket.
ESL teachers from the U.S. come to Thailand primarily to experience the culture and explore the country's wonders. They usually teach English to extend their holiday in the country. One problem that ESL instructors are concerned about is the 90-day report. Immigration demands all foreigners to report to them every 90 days. Many teachers find this tedious and annoying.
Nevertheless, many ESL instructors find Thailand to be an interesting place to teach. Aside from the fact that Thailand is home to many famous beaches, Thais are also very friendly. Many Thais in tourist areas speak English, and this makes staying in the country a lot easier for foreign teachers.
Czech Republic
Recently, the demands for English teachers in Czech Republic has significantly increased. This is especially true in Prague during the months of September and January. ESL instructors may teach in private schools, foreign language schools and summer camps.
Czech Republic is an interesting country to teach English in. This is because of the many jobs available along with the flexible contracts offered. Among the drawbacks of working in Czech are the pay and the visas. ESL teachers who opt to work there have to go through a tedious process before they can work in the country. They have to present documents like bank statements to prove that they have money to support themselves.
Additionally, the pay is not enough for a comfortable lifestyle. Typically, teachers earn about $1,000 to $1,300. This is why many foreigners go to the country with exploring as their primary goal. Nevertheless, the Czech Republic is easy to acclimatize to for many American teachers.
Saudi Arabia
Qualified English teachers in Saudi Arabia can earn as much as $1,500 to $3,000 or more tax free every month. In addition, they get free health insurance, airfare and accommodation. However, expectations and qualifications for ESL instructors are relatively high. A lot of young Americans have been attracted to these offerings. Unfortunately, the country's culture is particularly difficult to get accustomed to. There are stringent laws that prohibit people of opposite genders from talking and meeting both in public and private. In addition, alcohol is illegal in Saudi Arabia, and foreigners must live on compounds where they will have very little interaction with the local population outside of work.
Saudi culture is very conservative, and foreigners are not excused. Nevertheless, pay and compensation is better than in other countries. ESL teachers in Saudi Arabia have to go through a lengthy application and visa process that may take one to three months. English teaching jobs are available in large cities like Jeddah, Riyadh, Mecca, Dammam and Medina.
Mexico
Mexico also has high demand for ESL instructors. Many Americans come to Mexico to experience teaching English and the local culture. This is because Mexico is very close to the United States, and it is relatively easy to get there. There are a lot of teaching jobs available in the country. Unfortunately, they are often not attractive for American ESL instructors because of the very low pay. Nevertheless, it is very easy to get accustomed to the country.
Americans who want to go and teach English in Mexico often choose to work in local and international schools. This is because they usually provide better pay and benefits than working in language institutes and teaching private classes.
Pursuing A Teaching Job
If you are interested in pursuing a career in education, it is important to know what kind of salary you should expect, how much education is required and what types of teaching and other jobs may be available to you in the future. Depending on your particular area of interest there are many different types of careers in different areas of education.
Possible Career Paths In Teaching And Education
Some people enjoy working with young children so they choose to specialize in Early Childhood Education while others prefer to work with older teens and adults so they may choose a career path as a College Professor or Adult Educator. If you want to work in the field of education, but you don't think you'd enjoy working in a classroom, another potential career path is in an administrative position where you could work as a School Principal, Superintendent, Guidance Counselor or other position within the field of education, without working directly in a classroom.
Read the rest of this entry »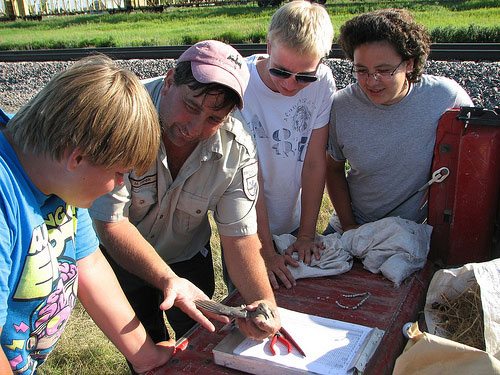 North Dakota students in an outdoor learning environment (Via)
Miners used to say that to go on working, they had to follow the coal. The problem for teachers has been their form of coal just didn't exist. Population contraction meant fewer children. Fewer children coupled with population migration meant that wherever the children were, they weren't likely to be in the state where a teacher lived. This, along with cutbacks to education, amounted to hard times for the practitioners of one of the hardest and most important jobs of all. Wherever schools were hiring teachers, they were paying less. Layoffs are epidemic. Jobs are less secure. Teaching positions at charter schools bring a whole new set of opportunities but also challenges.
Featured Top Ranked Masters of Education Programs
For a teacher willing to relocate, there are schools that are hiring now. In most states, there is a severe need for bilingual, ESL, special education, math and science credentials. There's also a growing need for special ed teachers whose training focuses on well-defined types of disability. Elementary school teachers may enhance their hiring prospects through being certified to teach a subject on a secondary school level.
The good news is with the baby boom generation reaching their sixties in droves, there will soon be one million teachers retiring. In fact, due to fewer people going into the profession, especially in the regions where there has been much of the job loss, there is expected to be a shortage of teachers over the course of the next seven years. This will be most problematic in the urban and rural areas of the southwest and southeast. That need for new teachers will be reflected in the following, compiled through data gathered from the US Department of Labor and the National Education Association.
1. North Dakota
Funding their school coffers in part with oil money, North Dakota doesn't plan on any reductions in school funding. They also have a very low overall population, and college graduates generally leave the state in search of excitement, leaving the state chronically in need of teachers. Starting salaries are at or near the bottom at $25,000, but there are jobs.
2. Alaska
In an attempt to lure teachers to their sparsely populated state, Alaska offers a beginning teacher salary of about $36,000. The state reports shortages in all areas, with a particular need in special education, math, and science.
3. Illinois
This state has a higher starting salary of $37,500 and an average salary over $55,000. Illinois also has retirement waves going on. There continue to be shortages in all areas, with a particular need in special education, math, and science.
4. Florida
The retirement state is seeing its own wave of retiring teachers. Florida faces a current shortage of teachers due to this and because of a recent state constitutional amendment requiring reduced class sizes. Teacher salaries begin around $30,000. Job prospects are said to be fair to good.
5. Arizona
Arizona has a need for teachers in many categories, especially foreign language, special ed, bilingual, ESL, math, and science. Salaries starts at $28,000 and average around $44,000.
6. Connecticut
Connecticut reports a shortage in speech and language, special ed, music Spanish, bilingual education, science and math teachers. Connecticut is known to be a teacher and education friendly state with many perquisites for those who enter the field.
7. Alabama
Beginning teacher salaries in Alabama start around $31,000. The state has a teacher shortage in many areas, particularly in special education, science, and math.
8. Arkansas
Beginning salaries for teachers in Arkansas start around $29,000. They report teachers are needed in math, science, and ESL.
9. Texas
Texas has long been thought of as a bad prospect for teachers but lately is showing serious signs of life. School districts are said to be hiring thousands of teachers. The prospects are only going to get better. Again, the most severe shortages are in secondary science and math teachers. Starting salaries begin around $33,000. Average salary is about $41,000.
10. North Carolina
With current shortages in the usual fields, there are predicted shortages of teachers across many categories. The average teacher in North Carolina earns $43,000. Beginning salaries start around $27,000.
Some other good job prospects for years to come include Nevada and California. In general, the future for teachers is at last looking up.