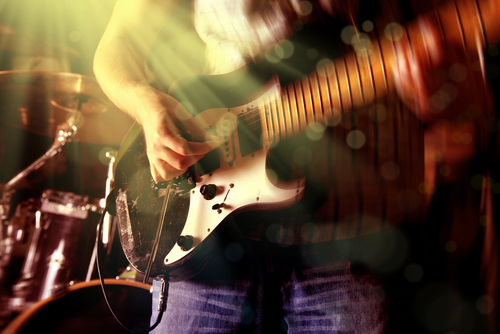 When you're a teacher, two things you need in abundance are energy and creativity, because keeping those young people engaged and interested is no mean feat! As these famous ex-teachers amply demonstrate, that same creative spirit can also be turned to more artistic pursuits, not to mention fame and fortune. Check out these accomplished musicians, all of whom, at one point or another, spent time before the blackboard, cultivating young minds.

10. Peaches
Known primarily for her brash attacks on assumed gender roles, Peaches' music attempts to offer a riposte to traditional conceptions of sexuality. Yet, despite her edgy image and sharp political edge, it's a little-known fact that Peaches, real name Merrill Nisker, started out her career teaching drama and music in the rather more conservative environment of the Associated Hebrew Schools of Toronto, having herself attended a private Jewish school while growing up in Toronto.
9. Sting
Although one of just a handful of musicians so famous that they are known pretty much only by their stage names, Sting wasn't always a multi-platinum album-selling superstar. While playing music in jazz bands during evenings, weekends and holidays, he spent two years from 1974 to '76 working as a teacher in his native Newcastle, England as plain old Gordon Sumner. The following year, he gave it all up to move to London, where he formed The Police, and success soon followed. While The Police's hit single "Don't Stand So Close To Me" is concerned with the inappropriate feelings of a schoolgirl for her teacher, Sting has denied that it was in any way inspired by his time spent teaching.
8. Sheryl Crow
With nine Grammy awards and a host of other accolades to her name, Sheryl Crow is music royalty. Coming from a musical family, her father played trumpet and her mother taught piano, it sounds like it was a natural choice for her to study music when she attended the University of Missouri. Yet, rather than jumping straight into a recording career, Crow first transmitted her musical knowledge to youngsters, working as an elementary school music teacher by day and a singer on weekends. Appropriately, the start of her professional music career saw her doing a jingle for an ad, selling back-to-school goods! However, after her foray into advertising, Crow soon moved on to perform backing vocals for such shining lights as Michael Jackson and Stevie Wonder, before finding success in her own right in the 1990s.
7. J-Live
Known almost as much for having persistent difficulties with his record label as for his music, hip-hop artist J-Live began his musical career while studying for a degree at the University at Albany, State University of New York, where he majored in English. Upon completion of his degree, while his music career was on the rise, J-Live, or Jean-Jacques Cadet, as he's legally known, taught middle-school English at schools in Brooklyn. If his stage presence is anything to go by, one can certainly imagine him as an engaging and inspiring English teacher!
6. Roberta Flack
Although renowned for her expressive singing voice and string of Number 1 hits, like "Killing Me Softly with His Song" and "Feel Like Makin' Love", Roberta Flack's achievements don't stop at the top of the charts. Before she had even begun to make waves as a popular singer, she attended Howard University on a music scholarship at the humbling age of 15. Flack then embarked on a teacher training course, becoming the first black student teacher at an all-white school in Maryland, before moving on to teach music and English at a school in Farmville, North Carolina. It was while teaching in Washington DC that her singing career took off, by way of evening performances in bars and clubs, and word of her incredible voice began to spread. The rest, as they say, is history.
5. J.T. Taylor (of Kool & the Gang)
James "J.T." Taylor, of pop legends Kool and the Gang, has delivered more than a few lessons in being funky to nightclubs and dance floors the world over. For a time, though, Taylor also delivered lessons of a more traditional variety to pre-schoolers! We wonder if any of those students were old enough to recognize their former teacher in 1979 when his smooth vocals propelled him to stardom as the lead singer of the world-famous R&B/funk outfit, whose hits include "Ladies Night" and "Celebration."
4. Jimmy Driftwood
A mainstay of the folk scene for much of the second half of the 20th century, Jimmy Driftwood alternated between the roles of folklorist, musician, songsmith and, aptly, given his wise ways, teacher. Before being signed in 1957 and his subsequent rise to fame, Driftwood worked as a teacher in Arkansas. One of his more popular ballads, "Battle of New Orleans," was even written to help his students learn history. What's more, his memories of teaching must have been fondly cherished, as Jimmy Driftwood's later years featured frequent performances to high school and college students.
3. Natalie Gauci
The story of Natalie Gauci's rise to fame may begin with a passionate soul and a musical heartbeat, but her day-to-day life before appearing on Australian Idol in 2007 was that of a music teacher. A graduate of the Victorian College of the Arts, Gauci spent her days teaching music at the Catholic high school Academy of Mary Immaculate, Melbourne, and her nights performing in the city's bars and clubs, before shooting straight into the spotlight by winning the famous television contest.
2. Art Garfunkel
Although also renowned for his music as a solo artist, Art Garfunkel is most famous for being one half of the era-defining duo, Simon and Garfunkel. All those poetic turns of phrase that made the pair famous perhaps come as no surprise when you consider how much time Garfunkel spent in education: he has both an undergraduate degree and a masters to his name. What's more, as he and Simon were topping the charts, he was even working on a PhD in Mathematics Education. After the pair's musical partnership broke up, Garfunkel went back to teaching, spending a few months, from late 1971 to early 1972, teaching math to high school students in Connecticut. Perhaps it was this experience that drove him back to music, as the following year his debut solo album was released.
1. Gene Simmons
A fair number of parents might have misgivings about exposing their younger children to the songs and flamboyant stage outfits of the rock band KISS. It might come as a surprise, then, to learn that the macabre makeup-wearing vocalist Gene Simmons was once entrusted with the education of elementary school children. Yes, before forming the legendary band in 1973, Simmons taught kids in the sixth grade in Spanish Harlem in New York City. It's also fitting that Simmons went back to school in the 21st century for the British reality TV show Rock School, in which he formed a rock band out of a group of classically trained children at a prestigious English boarding school.