Early Childhood Education
High school is one of the most formative experiences in American life. The teenage years represent an emerging self-identify, independent of parents. It is a transition to adulthood.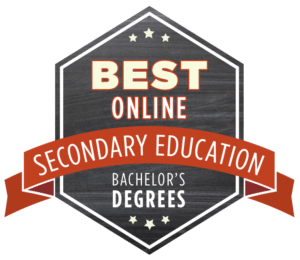 That transition is confusing, challenging, exhilarating, and scary in just about every human way—emotionally, physically, socially, and spiritually.  Many times high school friends last a lifetime and social identities are forged impacting life for years to come.
During high school, career ambitions come into focus and we awaken to the reality of responsibility, thinking about the future often.  Where will I go to college? What do I want to do for a career?  Do I want to live here? Where are my friends going? The fact is, high schoolers are full of ideas, ambitions, fears about the future, social drama, and no matter what they say or do, incredible potential.
Not sure that you want to teach high schoolers? Pay a visit to our ranking of the Best Online Bachelor's in Elementary Education for more information about teaching younger children.
What do you need to be a secondary teacher?
The most important quality you need is the desire to relate and communicate with young people during the teenage years.  This heart for the person is what makes great teachers great.  We don't remember the teacher who has a PhD unless that teacher takes a personal interest and demonstrates care and concern.
"People don't care how much you know until they know how much you care" as the cliche goes. If you love high schoolers, enjoy the high school culture, and have a desire to motive and inspire young men and women, you could be a great secondary teacher.
Teachers at the high school level need special training, training that fits a high schooler developmentally. This is exactly how our colleges and universities approach secondary teacher education. In order to teach in public school, you will need to attain a valid teaching license.
Because each state issues licenses, each state's requirements vary, however you can count on needing to go through a teacher education program and passing teaching exams such as the PRAXIS to earn your certification.
Check out the 50 States' Certification Requirements compiled by the University of Kentucky's College of Education. Do keep in mind there will also be requirements to continue your certification and often include earning a graduate degree (MAT or MEd).  This could factor into the college you choose as some schools have 4+1 degrees to earn your bachelor's, master's, and lead to certification.
What does a Secondary Education Program look like?
There are really two major spheres teachers receive training in content area, educational theory, and skills.  The former is usually provided by the specific department of your chosen subject area: English, math, social studies, science, etc.  It is important to find out how much content is required and to make sure it's a healthy amount.
As a high school teacher for 15 years who has mentored multiple student teachers, content knowledge is key.  High schoolers are smart, they know when you don't know what you're talking about and will see right through it. The other major area of training is the educational courses that prepare you for the teenage transition years.  Coursework educational psychology, methods, classroom management, assessment, lesson planning, integrating technology, understanding diverse learners all help, but the most important component is the clinical experiences.
The reality is that teaching is an art, not a science. This means it's a skill that can be developed but can only be developed experientially.  If you're serious about becoming a great teacher find the schools that have early and often fieldwork with student teaching that's at least a semester, preferably more.
What was your methodology for compiling the 10 Best Online Bachelors in High School Education?
We here at Best Education Degrees are ever-seeking to create more relevant lists. Every list starts with pertinent criteria that aim at helping you. For the 10 Best Online Bachelor's in High School Education, we found the tuition per credit from the school's website. Knowing the cost is always on the top of the search priorities which is why we weighed it at 30 percent.
We add to this the average early salary (20 percent) and graduation rate (10 percent) to assist you in determining the long-term financial picture and the success rate of others.  These two data points come from Payscale. We included a reputation score based on two national and well-known reputable ranking organizations: the National Council for Teacher Quality (NCTQ) and U.S. News and World Report's Best Online Bachelor's Programs.   
Since the NCTQ rank was specifically scoring secondary education programs and is known for rigor we assigned it 25 percent of the total. The U.S. News and World Report score was weighted at 15 percent. Each school receives a total score which is the ranking you see below.
1.Western Governors University
Western Governors University is an entirely online, nonprofit school.  WGU was founded in 1997 by 19 governors dedicated to making education accessible to more working adults.  The School is accredited by the Northwest Commission on Colleges and Universities.  Currently, there are about 80,000 students.
There are several options for earning a degree in secondary education at WGU.  All the programs result in a BA in Education the leads to licensure for grades 5-12.  Programs include a BA in Physics, Chemistry, Biological, Geosciences, and Post-Baccalaureates in English, Social Science, and Math.  All degrees require about 20 hours or more per week and can be taken at your flexibility and convenience. At WGU, in order to complete your teaching degree, you must create a professional portfolio, which is also beneficial for your career.  The flat-rate, no-nonsense WGU approach works for almost anyone, but these degrees are especially suited for transfer students, those with some work experience such as substitute teaching, or other bachelor's degrees.  Courses in educational psychology, methods, theory, and assessment are equivalent to any major on-campus university.
WGU is the highest ranked completely online school by the NCTQ with a 99th percentile.  On our list, the cost per credit is the lowest at $192, though please note that the graduate rate of 24 percent is the lowest.  All in all, WGU makes financial sense and their program is dependable.
2. Valley City State University
Located in beautiful Valley City, North Dakota, Valley City State University offers 1500 students more than 80 undergraduate programs as well as two masters of education degrees.  Not only does every student have a laptop at VCSU making them very tech-friendly, the students enjoy an 11 to 1 student to faculty ratio.
Founded as a normal school in 1890 gives VCSU a long history of educating teachers.  Since 2011, and in close connection with local community colleges and the State Board of Education, VCSU offers a completely online English Education degree.  The quality of the degree is equal if not superior to many large universities with only full-time faculty teaching in the program; the only faculty who isn't is the Vice President for 'Academic Affairs, a Shakespeare scholar who teaches the class on Shakespeare pro bono.  All coursework, peer interaction, faculty taught lessons, and other interactions are accomplished online and through Blackboard.  Whether you are a working mom or seeking to move into teaching from another field, VCSU's efficient, flexible and affordable degree may suite you just right.
Ranked #148 by U.S. News and World Report for Best Online Bachelors Program, VCSU is known for its quality.  Though scored in only the 12th percentile for the NCTQ, the University is still one of the best options when considering the low cost per credit of $220.
3. Saint Mary-of-the-Woods College
Saint Mary-of-the-Woods College in West Terre Haute, Indiana provides a powerful liberal-arts tradition, Catholic spirituality, and small school culture.   The 67-acre wooded campus and 8:1 student to faculty ratio helps maximize learning.  The College offers 25 majors.
Art, English, Life Sciences, Mathematics, and Social Studies Education are offered completely online at SMWC.  The online degree has 40+ years experience behind it so you know you're received quality.  As for program specifics, the Woods Core is 36 credits of robust liberal arts, followed by the educational core, into the development level focused on educational psychology and technology integration for a total of 113 credits.  All the coursework builds into and relates back to the four clinical experiences, including full-time student teaching.  Courses include Education in a Global Society, Instructional Methods,  and Social Emotional Development and Behavioral Intervention.  Lastly, the program is accredited by NCATE and the Higher Learning Commission.
Knowing an SMWC online degree is accredited and recognized helps; U.S. News and World Report ranks St. Mary's as one of the Best Online Bachelor's programs.  With a 60 percent graduation rate, success is within your grasp without sacrificing quality academics.  The financial consideration is also favorable with a tuition of $496 per credit and average early salary of $62,000.
4. Judson College
Judson College is the fifth oldest women's college in the United States.  Since 1839 when the first class of nine students studied in a rented house, the mission has endured – "the transmission of knowledge, the refinement of intellect, the nurturing of faith, the promotion of service, and the development of character."  JC is affiliated with the Alabama Baptist Convention and now offers coeducational distance education.  The College offers 20 majors, 22 minors, 10 pre-professional degree programs, and the Associate Degree in Nursing to 322 students.
Following their founding ideals, JC's education degree is Christ-centered and student-centered.  Judson's Distance Learning Program offers a BA in Secondary English/Language Arts (6-12) or a BA in Secondary General Social Studies (6-12).  The degree is entirely online and is delivered synchronously to a cohort (you meet with others with a common start and finish time for classes).  You will have six months to complete each course with various start dates throughout the year; the BA degree is 128 credits.  Important to note, JC's program leads to certification in Alabama and their teacher placements are all in Alabama.
With the fourth-best graduation rate at 41 percent, JC's small college experience and 9:1 student to faculty ratio means you'll receive personalized academic guidance.  In addition, the financial package is very affordable with a $550 tuition.
5. Grand Canyon University
Founded in 1949 by Southern Baptists, Grand Canyon University is a for-profit Christian research university in Phoenix, Arizona.  GCU has incredible online opportunities as well as traditional on-campus options.  The University has 20,000 traditional students and 60,000 online students.
The College of Humanities and Social Sciences offers a BA in Secondary Education in a number of subject areas: History, English, math, theater, music (multiple concentrations), business, and more.  This online degree can be blended or completely online.  The online version takes an average of 54 months to complete and requires internships, practicums, and student teaching in your local district. GCU's competency-based program focuses on critical thinking, clear community, responsible living in a diverse world, and integrated faith and ethics.   The 120-credit program includes courses in general education such as Communication and Christian Worldview,  subject-specific classes such as War and Revolutions, Survey of Asian Histories, and U.S. History since 1945.  Added to content preparations the educational foundations in philosophy, Christian integrate, technology, and child development holistically trains teachers to handle real-problems in a skilled and decisive manner.
Tuition for $440 per credit is reasonable at GCU.  The program makes our top five because of the convenience and flexibility of the online program with the experience GCU has in delivering a high-quality distance program.
6. Wilmington University
When 194 students opened the doors of Wilmington College in New Castle, Delaware, little did they know they were the first class of many to enjoy an excellent education.  Since 1868 WC has offered a private, non-sectarian education; the University currently enrolls 18,000 diverse students from all over the country.
At Wilmington, the College of Education's BS in Education Studies with a concentration in Skilled and Technical Sciences will set you up for a seamless transition into licensure.  The program on its own does not lead to certification.  Coursework and training are meant to combine with your Praxis testing required by the State Board of Education in Delaware (click here for details).   Features of the program include content-rich courses in your subject and education-related areas such as Multicultural Education, Methods of Teaching Career and Technical Education, Career and Technical Education Classroom Management, Student Testing and Evaluation, and Learning Differences and Assessment of Exceptional Children.  The Capstone Project for Career and Technical Education includes either an Action Research/Problem Solving Project or a 50-day Student Teaching Experience.
For one of the best prices on our list at $354 per credit, Wilmington makes financial sense. Looking to the future, the investment proves well-worth it with an early average salary of $59,700.
7. Northcentral University
Founded in 1996 with a unique approach to education, Northcentral University's is a for-profit, regionally accredited, online university headquartered in San Diego, California.  The education model is based on a one-on-one mentoring relationship between a 100 percent doctoral faculty and student.  The University has grown its offerings and accreditations over the years and now offers this personalized model to 10,000 students.
The incredible advantage that NCU offers applies to those with previous education, such as community colleges or other universities, that want to earn their certification completely online.  At NCU the Bachelors of Education (BEd 3+1) online education degree completion program is the only one of its kind certified by the Arizona Department of Education. NCU will allow you to transfer up to 90 credits to the 120-credit BEd 3+1 degree.  The degree is ultimately flexible with weekly start dates.  The one-on-one model gives personalized instruction from expert faculty resulting in more effective learning.  The BEd 3+1 degree takes about 20 to 44 weeks to complete depending on how many transfer credits you bring and the pace you choose.  Lastly, NCU makes it clear that their online education is not easier or somehow less of an education; they take pride in rigor and quality.
A reason often cited for choosing online learning is the cost.  This is certainly sometimes the case when comparing traditional vs. online schooling.  In NCU's case, the $450 per credit tuition is cheap and the $55,000 average early salary reveal the long-term wisdom of choosing Northcentral.
8. Ottawa University
Beginning in one school building in the 19th century with Baptist missionaries and the Ottawa Tribe, Ottawa University has come a long way.  Located in Ottawa, Kansas, about 40 miles from Kansas City, Ottawa University serves 5000 students on eight campuses and online.   The School offers bachelor's degrees in 25 different disciplines.
The Education Department welcomes anyone with the heart to help young people succeed.  The Bachelor of Arts in Secondary Education with options in business, English, history, and mathematics.  Ottawa recommends but does not require, taking your education degree to the next level by adding one of 25 different minors available.  In terms of the nuts and bolts of the degree, expect to be challenged with field experiences from the beginning to the end of the degree. The online quality of coursework is equal to the on-campus degree with classes such as Educational Psychology, The Exceptional Child, Foundations of Schools in a Diverse Society, and Student Teaching.  With faculty who take more than a dry instructor model but become mentors and advocates, you may find like others that OU is different.
Financial considerations are always at the top of the list when choosing colleges.  You'll be happy to note that OU's tuition is affordable at $499 a credit.  When taking into consideration the mean salary of secondary teachers is $57,000, the investment pays off in the long run.
9. Southwestern Assemblies of God University
In Waxahachie, Texas, the Dallas-Fort Worth metroplex, sits Southwestern Assemblies of God University.  This small, private, Christian school offers a "Higher Education for a Higher Purpose."   SAGU serves 2000 students through 60 undergraduate and graduate programs with an integrated and intentionally Christian education.
SAGU's online BA in Secondary Education, English or Social Studies, can be summed up by their slogan, "Login and Learn."  You do just that at SAGU, anytime, anywhere, and at the pace and convenience that's right for your life. All the pertinent courses are covered: Instructional Technology, Educator Assessment, Adolescent Literacy, subject are strategies and methods, and the practical hands-on, faculty-led experience you need.   Something wholly unique at SAGU is the Credit for Experience option.  This works when you enroll in a three-hour course that evaluated what you know and what your experience can count for in terms of credits; you can earn up to 45 total credits saving you up to $25,000.  Southwestern's Teacher Education Program is approved by the Texas Education Agency.
Accredited, academically challenging, and affordable is the combination you get at SAGU.  The tuition is $575 per credit and the average early salary is $32,000.
10. Hope International University
Hope International University is a private, Christian University in Fullerton, California.  HIU's mission is "to empower students through Christian higher education to serve the Church and impact the world for Christ."  Serving 2000 students offered undergraduate and graduate degree in many fields with a distinctly ethics-focused and service-based emphasis.
The Liberal Studies: Teacher Preparation degree is a BA in Secondary Education, English, Social Science, or a customized concentration.  An attractive feature of the LSTP is the personal, dedicated Academic Coach assigned from day one to make sure every "t" is crossed and every "i" is dotted.  The program is 100 percent online and has three core components: 49 units of general education, 24 units of specified major courses in Education, and 36 units of concentration courses.  The five-semester, 120-unit Bachelor of Arts degree is designed for transition to a graduate program to earn a Preliminary Multiple Subject Teaching Credential, Preliminary Single Subject Credential, or Master of Education.  The online courses are five to eight weeks and asynchronous (anytime and anywhere).
Hope International is accredited by the WASC Senior College and University Commission (WSCUC) and a member of the Council for Christian Colleges and Universities.  Tuition is the highest on our list at $1395 per credit.