SPECIALIZATIONS
The world's future depends on current society's ability to cultivate intelligent and creative minds, to instill virtue and strength in the global community's youngest contributors.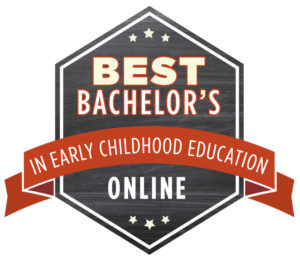 Earning a Bachelor of Science in Early Childhood Education enables graduates to pursue careers as educational directors, daycare teachers, elementary instructors, and teacher's assistants. There are a number of paths one can unlock with this degree in both public and private sectors, each as fulfilling and impactful as the next.
Early Childhood Education has a significant overlap with Elementary Education. If you plan to work with children in the primary grades, be sure to take a look at our Best Online Bachelor's in Elementary Education Degrees ranking.
The federal government anticipates 30,000 and 88,800 new preschool instructor and elementary instructor positions will arise between 2014 and 2024, respectively. Each potential career features its own unique job outlook, but these are two of the most commonly embarked career paths by those seeking this degree.
Early Childhood Education typically refers to children aged 0-8, but there are variances in understanding between universities. Applicants must explore curriculums to ensure the program they are enrolling in is ideal for their anticipated trajectory.
A typical undergraduate curriculum in this field educates students on child psychology, equipping them with the intuition required to evaluate a child and analyze their progression in emotional, cognitive, and social capacities. Bachelor's degree candidates will learn how to apply their knowledge of child psychology and educational theory to classroom dynamics and curriculum development.
Coursework often educates on multiculturalism and assisting students with disabilities, though as potential students explore bachelor degree offerings, they will note some universities offer specialized concentrations in these educational scopes.
A common requirement of Bachelor of Science in Early Childhood Develop programs is a mandated internship, generally completed towards the end of the student's academic journey. As near all states require teachers seeking licensure to complete 100+ practical hours, most schools integrate this requirement into their bachelor's degree programs.
This degree is ideal for those seeking to make an impact on children during the most critical years of their lives, for those looking to ensure every child experiences good health, appreciation, and quality education.
1. University of Washington
Overview
Today, the University of Washington is known the world over as one of the best universities in the world. This competitive institution offers over 140 programs of study, and it tops the list for early childhood education.
Program Features
Students enrolled in the school's Bachelor of Arts in Early Childhood & Family Studies program are given the flexibility to complete their work whenever they'd like, wherever they'd prefer. However, online students are held to the same standards and must adhere to the same guidelines asked of on-site attendees. Some of the courses available in the program include:
Positive Behavior Support in Early Childhood
Social Policy & Young Children & Families
Infants & Young Children: Risk & Resilience
Notables
The University of Washington asks that applicants have completed 70+ transferable general education credits and achieved a minimum GPA of 2.5 before entering the program. Applications for the Bachelor of Arts in Early Childhood & Family Studies open in March and remain open for applications until July 17.
2. University of Nebraska – Kearney
Overview
The University of Nebraska-Kearney has teaching in its DNA. It began its life as a teachers' college—a learning facility dedicated solely to the future teachers and educational personnel of America. Since opening in 1903, the school has evolved from a two-year institution solely offering instruction on child education to part of a statewide system offering four-year degrees.
Program Features
True to its roots as an institute designed for teachers, the University of Nebraska offers students a thorough education in early childhood development. The program teaches future educators how to excel with young individuals in a variety of settings, equipping them with the skills needed to advance education in all socioeconomic environments. Upon graduation, students will be qualified to perform in the following areas:
Infant Toddler Programs
0-3 Sixpence Programs
Early Intervention
Early Head Start
Head Start
Preschools (public or private)
Early Childhood Special Education
K-3 Classrooms
Notables
Students can choose to further specialize in early childhood education by exploring the University of Nebraska's Bachelor of Science in Early Education and Family Advocacy program. This new offering allows teachers to better navigate situations where they must work with students in home settings, ideal for applicants hoping to work in private daycare facilities or in non-teaching positions for government and outreach organizations.
3. University of Massachusetts- Amherst
Overview
The University of Massachusetts-Amherst is widely acknowledged as one of the best public colleges in the New England area, and one of the best nationally. And for decades, UMass-Amherst has demonstrated to students of all backgrounds its dedication to serving their needs and is a prime option for applicants of multicultural and LGBT backgrounds.
Program Features
For those looking to accelerate the road to degree completion and save money, UMass Amherst is an agreeable option. Unlike most other programs, UMass Amherst permits applicants to transfer up to 100 credits towards their bachelor's degrees. Students will acquire knowledge in an assortment of educational topics, including the following:
Multicultural Education
Early Childhood Curriculums
Reading, Math And Science Methods
Inclusion
Children's Behavior and Behavior Management
Notables
UMass Amherst offers ample opportunity for Montessori educators to fulfill their obligations for organization mandated training. Those who live or work as a childhood educator in Massachusetts may be eligible for scholarships and additional financial aid.
4. Concordia University – Saint Paul
Overview
Future teachers will find a welcoming and professional environment at Concordia University at St. Paul. The school has come to offer 50+ majors to its approximately 4,000 students. Students receive education from accomplished professionals, 85% of whom have earned terminal degrees in their discipline.
Program Features
Concordia University's B.A. in Child Development program may be completed entirely online in as little as 2 months. This 42-credit program requires students perform interactive field work in a licensed childcare or early development educational facility. Students need not be formally employed by the selected facility for the duration of the program to fulfill requirements. Some of the available courses include:
Writing for Educators
Children's Play and Learning
Ethics in Early Childhood
Notables
92% of graduates from Concordia University at St. Paul receive job offers after graduation. Between employment counselors and numerous opportunities to network with peers and faculty, the university assists all students in putting their best foot forward during the job search process.
5. The University of Alabama
Overview
There is enough going on at the University of Alabama to attract just about anyone. Future history teachers would be well served here, since the university was in the spotlight during the Civil War and the Civil Rights Movement. Football fans get to cheer for the Crimson Tide. And anybody who loves sweet tea and southern comfort food will feel right at home in Tuscaloosa.
Program Features
Alabama's 120-credit Bachelor of Science in Human Environmental Science with an Early Childhood Development concentration ensures tomorrow's educators are armed with the right knowledge. This program concentrates on early child development and requires students to complete 1 internship over the course of a single semester. Available courses include:
Children's Literature and Language Development
Children's Health and Safety
Exceptional Learners
Notables
Applicants working at or intending to work at a Head Start agency may be interested in enrolling in a separate but similar online BS program that prepares graduates for designing and implementing courses and activities for preschool-aged children. This concentration is reserved exclusively for educators pursuing positions in Head Start programs and allows applicants to transform their working experience into academic credit.
6. University of Missouri
Overview
The University of Missouri is a $2.2 billion economic asset to the Missouri community. And it's preparing hundreds of people to become teachers–assets to their communities. The university offers over 300 degree options, and as it's reaching to extend its global presence, offers 89 online degrees–a number that continues to grow.
Program Features
Mizzou offers those interested in childhood education the opportunity to pursue a Bachelor of Science in Human Environmental Sciences. The curriculum highlights family dynamics as well as childhood education, but applicants should be wary that this is not a formally offered concentration. Diplomas will not indicate that the student specialized in childhood education.
This program, offered 100% online, mandates no campus visitation and presents students the option of exploring the following:
Child Assessment
Child Development
Classroom Environments
Curriculum Development
Working With Families
Notables
Mizzou is part of the Great Plains Interactive Distance Education Alliance (IDEA), a formal union of public colleges throughout the country that offers online degrees. Though students in this program will be reviewed and admitted to the University of Missouri and graduate with a diploma labeled as such, they partake in online classes hosted by expert faculty from multiple universities.
7. University of Cincinnati
Overview
"Seek the highest." Such is the motto of Ohio's second largest public university. As one of the top 250 universities in the entire world and one of the top 50 in America, the University of Cincinnati continuously strives to offer its 45,000 students the best of academics. This goes for its early childhood education program as well.
Program Features
With a focus on innovative online education, University of Cincinnati is well placed to serve adult learners and busy professionals. Graduates fill a number of jobs related to the major like Head Start teacher, Infant/Toddler Specialist, and MRDD Consultant Trainer. Core classes in the program include:
Educational Psychology
Health, Safety and Nutrition
Classroom Organization and Guidance
Notables
Students pursuing a bachelor's degree in this field will receive a thorough understanding of the mental, emotional, and cognitive dispositions of students of all ages–from infancy to kindergarten entry. Students will learn about child literacy and social interactions in the classroom. Credit transfer options are available for those who've received previous formal education. The University of Cincinnati does not license educators but offers comprehensive guidance for those who require it.
8. California Baptist University
Overview
Students seeking a religion-focused Bachelor of Arts in Early Childhood Development should consider California Baptist University. Featuring a 100% Christian faculty and a strong relationship with the Southern Baptist Convention, California Baptist University provides students the opportunity to pursue one of 83 academic programs with like minded peers and instructors.
Program Features
The Bachelor of Arts in Early Childhood Studies grants students the chance to learn about assessment criteria, child psychology, and education theory. The curriculum addresses the needs of both able bodied and disabled children aged 0-8. Upper division requirements for the degree include:
Perceptual Motor Development in Infancy and Early Childhood
Social & Emotional Development in Infancy and Early Childhood
Assessment of Young Children Including Children with Disabilities
Notables
The average student completes this accredited program within 16 months.  Up to 24 transferable credits are preferred for acceptance into the program through high school diplomas or equivalent proof of education will be considered. Applicants must have a GPA of at least 2.0 to apply. In addition to education oriented courses, students may fortify their education from the university with one of two courses: 'Foundations of Christian Thought' and/or 'Overview of the Bible.'
9. Bluefield College
Overview
Spanning across only 82 acres, Bluefield College is one of Virginia's smaller academic gems. But don't judge it by its size, especially if you're considering early childhood education. Today, Bluefield College is home to roughly 1,000 focused and talented students. Could you be one of them next year?
Program Features
Like the majority of online programs at other schools, Bluefield College's Bachelor of Science in Early Childhood Education does not provide graduates with teaching licenses. But it does directly contribute to more fulfilling careers by unlocking opportunities that are otherwise unreachable.  Sample courses at Bluefield in this major include:
Safe & Healthy Settings for the Young Child
Guiding Young Children
Early Childhood Program Management and Practicum
Notables
Students participating in this program will be required to obtain practical and observational experience by working in a childcare facility during their final year in the program. Depending on the candidate's particular interests, the student will enroll in either one of Bluefield College's two offered practical courses: Early Childhood Program Management Practicum and Early Childhood Practicum.
10. Southern Oregon University
Overview
Southern Oregon University has teacher education in its bones. The school began as a "normal school," an institution solely designated to educate teachers. Now, the university offers diverse programs through its three schools: the College of Arts and Sciences, the School of Business, and the School of Education. But it's still a great place for future educators.
Program Features
Southern Oregon is proud to offer a holistic Bachelor's in Early Childhood Development program. Students are invited to attend an annual, informal forest escapade where students enjoy fireside conversation with notable speakers. Future teachers learn to integrate mindfulness, cultural sensitivity, and imagination in lesson plans and student-teacher interactions. Sample courses include:
Children at Risk
Social/Emotional Needs of Talented & Gifted
Differentiated Curriculum in the Inclusive Classroom
Notables
The bachelor's degree granting program at Southern Oregon University is a degree completion program, meaning applicants must have already completed their general education requirements. Students living in the immediate area and attending local two-year colleges may enjoy easy transition into the university. If applicable, please contact your advising office for further information on appropriate academic tracks.
11. Florida State College at Jacksonville
Overview
Florida State College at Jacksonville (FSCJ) has four brick and mortar campuses in Florida's largest city of Jacksonville. It also offers degree programs online, and for in-state students, the education is very affordable. Future early childhood educators looking for excellence and affordability can find it at FSCJ.
Program Features
The online Early Childhood Education program prepares students to become pre-kindergarten through to grade 3 teachers for public and private schools. Graduating students will have the ability to earn the Florida Department of Education Professional Educator Certificate (PreK/Primary) with an ESOL endorsement, and the Department of Children and Families Staff Credentials. Some of the classes available at FSCJ include:
Early Literacy for Young Children
Observing and Recording Child Behavior
Special Needs in Early Childhood
Notables
FSCJ Online provides accredited degrees and certificates that can be completed fully online with flexible class schedules that meet their students' specific needs or circumstances. An accelerated online option is also available for students who want the earning of a bachelor's degree expedited.
12. Florida International University
Overview
This flourishing establishment in the Miami area has enjoyed almost 50 years of academic success. With its online offerings geared towards tomorrow's educators, it could become your home for academic and career success.
Program Features
Florida International University's online Bachelor's of Science in Early Childhood Education gives teachers the skills needed to understand the emotional and cognitive development of maturing youth. The program spans childhood development from birth to 5 years of age and can be completed completely online. Unlike many other programs, students are matched with a personal advisor that guides them through their entire enrollment at Florida International University. Courses offered include:
Classroom Management
Cultural/Social Foundations of Education
ESOL Principles and Practices
Notables
To achieve admission, students must have achieved a GPA of at least 2.5 on a 4.0 scale and completed at least 60 hours of general education credits. Note that this program does not guarantee licensure. Students must check with the Department of Education in their intended place of employment for further information on teaching certificate.
13. Mississippi State University
Overview
Mississippi State University continuously attracts the region's best and brightest minds to its halls. It equips them with the tools and knowledge needed to unlock their creative spirits and further the school's contributions to research and practice, including in early childhood education.
Program Features
Students can begin their online journey at Mississippi State University in either the fall or spring semester. All classes are offered online, and while students occasionally have the opportunity to attend on-campus events and special lectures, all opportunities requiring on-site attendance are optional. The Bachelor of Science in Early Education Program allows applicants to complete their required field experience at a childcare facility near their hometown. Classes in the major include:
Exploring Diversity Through Writing
Prenatal & Infant Development
Child Development
Notables
The student will be expected to work full-time as a teacher intern during their last semester in the program. Please note that Mississippi State University is no longer able to match students to Georgia-based internships, meaning applicants from Georgia will not be able to complete their field experience in their state of residence.
14. Northern Arizona University
Overview
Northern Arizona University got its start training teachers. When it first opened, the school consisted of a single faculty member and 23 students.  As legend goes, the only faculty member—who operated as the sole professor and president simultaneously—taught his classes equipped with nothing but two copies of Webster's International Dictionary. Nowadays, you'll have access to a few more resources than that.
Program Features
This program is ideal for future educators (and current childcare professionals) who seek a flexible, online program and have already completed a two-year associate's degree from a local college. The school offers no path to teaching credentials and offers a curriculum that is not tailored to students desiring positions that require licensure. Required courses at NAU in the early childhood program include:
Early Childhood Development
Curriculum And Assessment In Early Childhood
Foundations Of Special Education: Early Childhood
Notables
Note that students attending an Arizona community college can rest assured that they automatically will have a minimum of 35 transferable credits by nature of Arizona's two-year education program requirements.
15. Fort Hays State University
Overview
Want to be assured of getting a job once you finish your early childhood education degree? This Midwest University boasts a 95% post-graduation job placement rate. What's more, set right in the center of the community of Hays, Kansas, FHSU is regarded as the fourth best small town college in America.
Program Features
Fort Hays State University offers a Bachelor of Science in Education Programs (Early Childhood Unified). This general program qualifies teachers to handle children aged 0-8. Like the aforementioned programs, this course is also offered entirely online. However, students can choose to attend some courses on campus should they choose. Courses offered include:
Educating Exceptional Students
Diverse Learners
Programs, Procedures, & Issues in Special Education
Notables
Fort Hays State University is proud to offer students the opportunity to participate in its internship and student teaching experiences, helping students complete the field hours needed for teaching licensure in the state of Kansas. Students who live outside the jurisdiction of Kansas must approach the Department of Education in their intended state for licensure information.
16. Wilmington University
Overview
As a private, not for profit doctoral research institution, Wilmington University has 14 bricks and mortar campus locations throughout Delaware, New Jersey, and Maryland. It offers nearly 100 degree and certificate programs across its seven academic colleges: The College of Arts & Sciences; the College of Education; the College of Business; the College of Health Professions; the College of Social & Behavioral Sciences; the College of Technology; and the College of Online and Experiential Learning.
The main campus is located in New Castle, Delaware. The University is accredited by the Middle States Commission on Higher Education and the Council for the Accreditation of Educator Preparation.
A Bachelor of Science in Education Studies with a concentration in Early Childhood Education is offered by Wilmington as a 100 percent online course. This program gives students the knowledge and skills to work with children in positions that do not require state licensure/certification. A student wishing to become licensed/certified in the state of Delaware can transition to a parallel teacher preparation program.
Wilmington University online courses use the Blackboard online learning platform. This platform allows students and faculty to access course materials, communicate and collaborate completely online.
17. Ball State University
Overview
Ball State University is a local pioneer in environmental sustainability efforts, so it could be the perfect place for future science teachers. With an endowment of nearly $200 million, this well-funded university can make your teaching dreams, whether you want to teach science or anything else, into a reality.
Program Features
Ball State University remains tightly intertwined with its roots as a normal College. Today, it boasts one of the best programs in the nation for teacher education. Those enrolled in its online Bachelor's Degree in Early Childhood Education Program enjoy instruction from the same teachers that elevated Ball State University to it current repute. Available courses include:
Early Emergent Literacy
Leadership and Management in Child Development Programs
Assessment of Young Children with Exceptional Needs
Notables
This program is catered towards students who currently work as full-time childcare professionals. Students will learn how to observe and assess growing children, as well as how to assist with familial relationships. Graduates of this program automatically receive a minor in childhood special education. Ball State University offers extensive scholarship opportunities for ambitious, competitive applicants.
18. Eastern Oregon University
Founded in 1929 as a teachers' college, Eastern Oregon University (EOU) today serves as a regional University and center for education, culture, and scholarship. With its main brick and mortar campus located in La Grande, Oregon, the University offers bachelor's and master's degree programs through its three schools: the College of Business; the College of Arts & Sciences; and the College of Education.
Program Features
The University's College of Education offers a non-licensure major in Early Childhood Education which is offered completely online and can be completed in two years. The program designed to prepare students for working with young children from birth to age 8. In the Early Childhood Education degree program, students can take the following classes, among others:
Early Childhood Health and Wellness
Creative Arts Methods in Early Childhood
Family Collaboration in Early Childhood
Notables
EOU uses the Canvas Learning Management System for the delivery of classes and for the interaction between students and their instructors. Although some Instructors may ask that assignments be submitted as an e-mail attachment. Also, some assignments may be submitted via fax.
19. National University
Overview
Headquartered in La Jolla, California, the National University is a not for profit, private university that offers academic degree programs at campuses located throughout the state of California, one campus in Nevada, and online. Its programs are specially designed for adult and professional students.
Program Features
A Bachelor of Arts degree in Early Childhood Education is offered online by the University. It has been designed to include the competencies and guidelines of the National Association for the Education of Young Children (NAEYC) and the Child Development Associates National Competency Standards (CDA). Available courses include:
Early Cognition
Play as Pedagogy
Designing Emergent Curriculum
Notables
National University offers more than 100 graduate and undergraduate degree programs and over 1,500 courses online. The programs are interactive with streaming videos, real-time discussions, multimedia learning material, and online classrooms.
20. Granite State College
Overview
Granite State College is one of four institutions that comprise the University System of New Hampshire. Since 1972 the college has been offering evening and weekend classes that fit the schedules of working adults. Its Early Childhood Education program continues in this tradition of expanding education for non-traditional college students.
Program Features
The College offers a Bachelor of Science in Early Childhood Education with teacher certification as a fully online program. The certification options include Early Childhood Education and Early Childhood Special Education. The Early Childhood certification will prepare students to teach children in public schools from nursery school level to Grade 3. Courses available in the major include:
The Dynamic Role of the Special Educator
Teaching Language Arts and Literacy
Special Education Law
Notables
The course instruction occurs completely online with no face-to-face requirement. Students who reside outside New Hampshire and plan to enroll in Granite State College certification programs are advised to verify the program meets requirements for licensure in their state.
21. Liberty University
Overview
Liberty University is a private, not for profit Christian university located in Lynchburg, Virginia. With 15,000 residential students and over 100,000 online students, it is the largest evangelical Christian university in the world.
Program Features
Liberty University's Bachelor of Science in Early Childhood Education Interdisciplinary Studies is accredited by the National Council for Accreditation of Teacher Education. It is a 100 percent online program that equips students to examine the specific theories and methodology of education. With the completion of Masters of Arts in Teaching students can gain a teaching licensure. Courses offered in the degree program include:
Classroom Management for Teachers
Wellness in the Early Childhood Setting
Psychology of Childhood
The University has 289 online programs; 79 undergraduate; 175 graduate; seven post master's; and 28 doctoral. The courses are delivered through the Blackboard online learning platform that enables students to submit coursework, complete online tests, and interact with faculty and their classmates. Liberty University Online offers students the flexibility to complete assignments at their own pace, at a time convenient to them within each week.
22. Kendall College
Overview
With a brick and mortar campus located in Chicago, Illinois, Kendall College offers undergraduate degrees in business, culinary arts, early childhood education and hospitality management. But its online programs are available anywhere.
Program Features
Kendall College offers three Early Childhood Education programs.  A B.A. in Early Childhood Education with Illinois Professional Educator Licensure, a B.A. in Early Childhood Education, Non-Licensure and an Illinois Professional Educator Licensure Preparation (post baccalaureate) program. Both Licensure programs are approved by the Illinois State Board of Education. Courses offered include:
Knowledge and Skills Building for Teachers
Linguistics & Language Development: Processing and Theory
Developmentally Appropriate Practices for Infants and Toddlers
Notables
As well as offering a flexible online learning format, Kendall College offers a range of special courses that include Administration and Leadership, Childhood Nutrition, English as a Second Language, Grant Management, Infants and Toddlers, Small Business Management, and Special Education.
23. Baker College
Overview
Baker College is a private, not-for-profit college with 13 brick and mortar campuses throughout the state of Michigan. Classes are delivered through day, evening, and weekend classes on campus, along with 24/7 accessibility online. Their Early Childhood Education program is accredited through the National Association for the Education of Young Children.
Program Features
Baker offers an Associate of Science and a Bachelor of Science in Early Childhood Education online. Combining classroom studies with internships in child care settings students are prepared to be employable in supervisory and administrative positions, as family advocates, preschool teachers, home visitors, directors, curriculum developers, and child advocates. Courses available online include:
Administration of Early Childhood Programs
Developing Anti-Bias Curriculum
Music and Movement for Young Children
Notables
Barker's online courses begin and end on specific dates and class work has assigned deadlines. All classrooms and library resources are open 24 hours a day, 7 days a week. Online courses offered are based upon a fully accredited core curriculum which enables students to combine online and face to face learning.
24. Grand Canyon University
Overview
Grand Canyon University (GCU) is a Christian research university with its brick and mortar campus located in Phoenix, Arizona. For students interested in pursuing their Early Childhood Education within a religious framework, GCU might be the perfect place for them
Program Features
GCU offers a Bachelor of Science in Early Childhood Education online. Offered by the College of Education, this program provides students with the fundamentals of teaching along with the coursework required to become qualified pre-school and kindergarten teachers. This program meets licensure requirements in all states except Connecticut, Kentucky, Massachusetts, and Ohio. Courses offered include:
Educational Psychology in Early Childhood
Quality Practices for Typical and Atypical Behaviors of Young Children
Child, Family, Community, and Culture
Notables
GCU has provided an online learning platform for more than a decade, with an advanced online learning management system and a variety of online library resources available anytime, anywhere. The programs offered through the University's colleges feature an academically rich and values-based curriculum.
25. Regent University
Overview
Regent University is a private Christian research university with a brick and mortar campus located in Virginia Beach, Virginia. This year the University topped the list of Best Online Bachelor's Programs in Virginia by U.S. News & World Report. So if you're looking for quality online programs, Regent fits the bill.
Program Features
Through the University's College of Arts & Sciences, Regent's offers a Bachelor of Science in Early Childhood Education, entirely online. This program provides a comprehensive study of education along with business operations so that students are equipped to provide excellent and affordable care for young children. Courses offered include:
Child and Adolescent Growth and Development
Guiding Young Children
Wellness in Childcare Programs
Notables
Regent Online provides instruction from the same professors who teach on campus. The Blackboard online learning platform allows students to view all their course materials and grades, participate in discussion forums and submit completed assignments, quizzes, and exams from anywhere they have access to the internet.