You've decided that elementary education is your calling. Now comes the critical next step: Deciding where to earn your degree.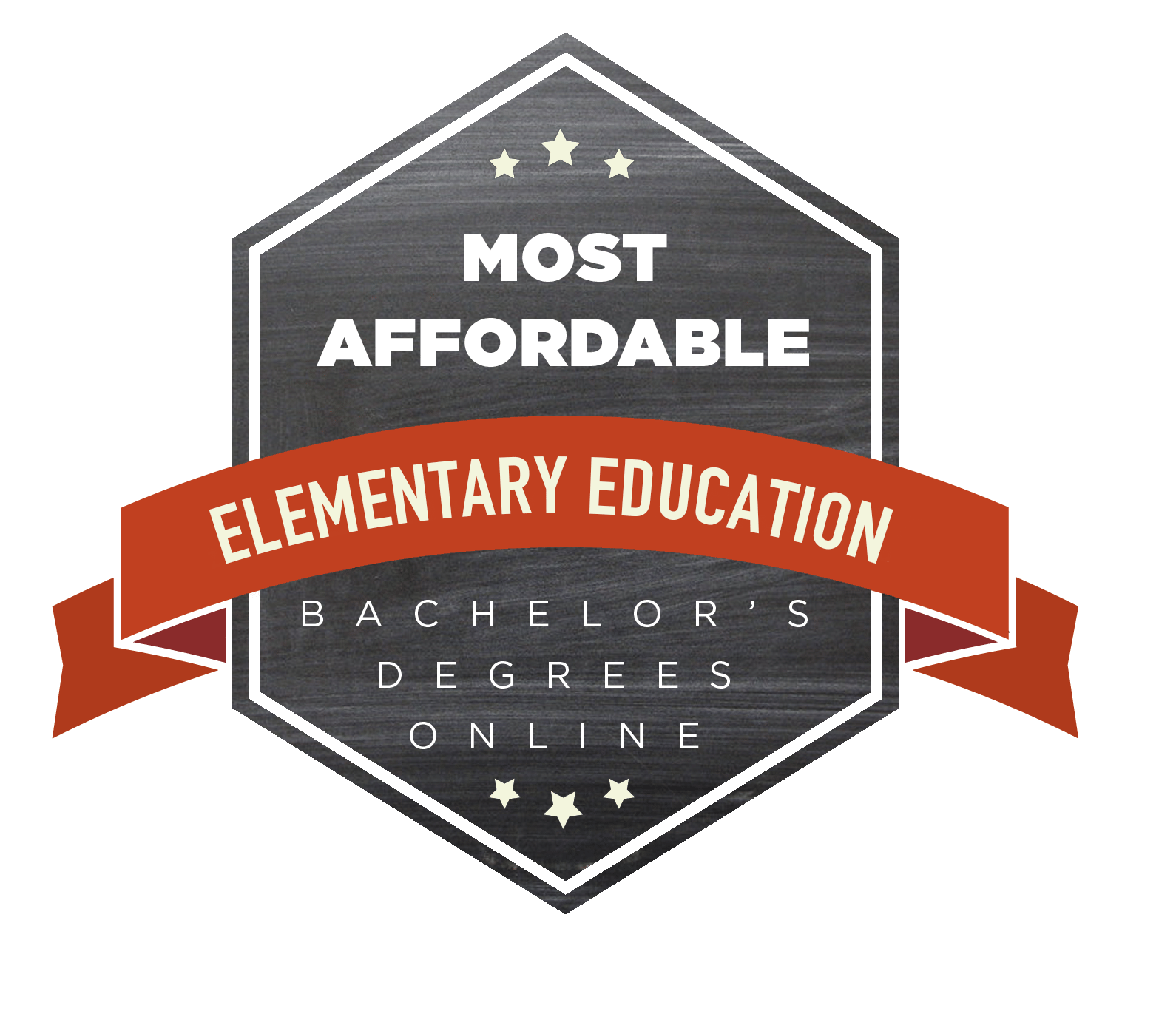 Choosing a bachelor's degree program is an intimidating process. A college degree is a huge investment of time, energy, and, of course, money. Here's what you need to know about getting the most out of your tuition dollars.
What are the options for a bachelor's degree in elementary education?
You have hundreds of options for teacher preparation programs. To help you come up with a shortlist, we've created a ranking for the Best Online Bachelor's in Elementary Education Degrees. If traditional, on-campus classes are more your style, take a look at our ranking for the Best Bachelor's in Elementary Education Degrees.
How much can you earn with a degree in elementary education?
Your salary will depend on where you teach, your qualifications, and your level of experience. According to the Bureau of Labor Statistics, the average annual salary for an elementary teacher is $55,490.
What can I do with a bachelor's degree in elementary education?
The most common career path for elementary education graduates is to become a classroom teacher for kindergarten through sixth grade. But with this educational background, you can also become a reading specialist, behavioral interventionist, or English as a Second Language specialist.
What are the requirements for a bachelor's degree in elementary education?
Most bachelor's degree programs in elementary education lead to licensure, and almost all licensure tracks require a student teaching placement. A typical teacher training program will require you to maintain a strong GPA through all the prerequisite classes and successfully pass any state-mandated assessments prior to beginning your student teaching experience.
What are the best online bachelor's degrees in elementary education?
To compile this ranking, we looked at data from individual college websites, U.S. News & World Report, PayScale, and the IPEDS database. Each school was assessed and ranked for tuition costs, whether by credit hour or by semester. We also investigated the availability of financial assistance and institutional aid.
Read on for the nation's most affordable bachelor's degree programs in elementary education.
1. University of Louisiana at Monroe
Overview
The online bachelor's degree programs at the University of Louisiana at Monroe combine convenience with academic rigor, while still remaining one of the most affordable options in distance education. The nationally recognized teacher education tracks at ULM offer a strong groundwork in theory as well as intensive field experiences.
Program Features
The program at eULM leads to a Bachelor of Science in Elementary Education and a teaching certification for grades 1 through 5. The online program is fully accredited by the National Council for the Accreditation of Teacher Education (NCATE). Candidates for this degree will complete the following courses:
Assessment Principles and Practice for All Learners
Balanced Literacy: Primary Grades
Educational Psychology
Behavior Support and Interventions
Notables
ULM does not charge any additional fees for out-of-state students enrolled in a distance education program. Online students may work with the Office of Financial Aid to see if they qualify for loans and grants, which can significantly lower their cost of attendance. ULM offers numerous opportunities for prior learning assessments (PLAs), which can allow students to earn college credit for previous knowledge or professional experience. PLAs can also help students reduce their tuition costs. As of fall 2016, the cost for undergraduate online courses is $400 per credit hour.
2. Western Governors University
Overview
For more than 20 years, Western Governors University has been a national leader in distance education. In 2015, the teacher training programs at WGU were ranked as the best value out of 1,100 education schools and programs. This ranking, awarded by the National Council on Teacher Quality, recognized WGU for outstanding affordability as well as academic quality and relevance in preparing graduates for the classroom.
Program Features
WGU was the very first exclusively online university to earn NCATE accreditation for an undergraduate teacher licensure program. Graduates of the program will earn teaching certification for kindergarten through grade 8. Required coursework includes:
Classroom Management, Engagement, and Motivation
Fundamentals of Diversity, Inclusion, and Exceptional Learners
Instructional Planning and Presentation in Elementary Education
Elementary Reading Methods and Interventions
Notables
The tuition model at WGU is unique. Instead of paying per credit hour, students pay one flat rate for a six-month term. Students are welcome to work through as many classes as they would like during the six months. The more courses completed each term, the shorter the time to graduation, and the less the student will pay. This provides undergraduates with a great deal of control over the cost of their education compared to a traditional university.
3. Troy University
Overview
A member of the Alabama State University System, Troy University offers a comprehensive suite of highly respected bachelor's degree programs. The teacher preparation programs are regionally renowned as a practical, hands-on pathway to a career in education. The fully online Elementary Education program includes both rigorous coursework and a rich variety of field experiences. In addition to Elementary Education, Troy also offers nationally accredited and highly affordable P-12 licensure programs for choral music, instrumental music, visual arts, theatre, and physical education.
Program Features
The Troy University program leads to licensure for kindergarten through grade 6. The degree track requires a minimum of 121 credit hours. Students will complete at least 48 undergraduate credit hours before formally applying to the Teacher Education Program. Once accepted to the program, Education majors will complete the following courses:
Educational Psychology and Classroom Assessment
Teaching with Technology
Curriculum and Instructional Delivery
Diverse Learners
Notables
Troy has received widespread recognition as one of the most military-friendly institutions in the nation. The Troy University Military and Family Scholarship reduces both undergraduate and graduate tuition to $250 per credit hour. The scholarship is available for active military, Reserve, and National Guard members and their immediate family members. Troy also offers numerous scholarship opportunities specifically for online students.
4. The Baptist College of Florida
Overview
The academic programs at the Baptist College of Florida are available on the main campus in Graceville, at satellite campuses in Jacksonville and Orlando, and through an extensive online presence. The college was first established in 1943 and now boasts one of the most accessible and innovative distance learning programs in the state. The undergraduate program for elementary education thoroughly prepares BCF graduates for the specific challenges of modern education.
Program Features
BCF offers a fully online track leading to a bachelor's degree in Elementary Education with teacher certification for kindergarten through grade 6. The curriculum for the degree will allow students to pursue both a Reading Endorsement and an English for Speakers of Other Languages (ESOL) Endorsement. The degree track requires a total of 127 credit hours. Core courses for Elementary Education majors include:
Theoretical Underpinnings of ESOL
Teaching Diverse Populations
Psychology of Teaching and Learning
Diagnosis and Remediation in Elementary Reading
Notables
Numerous other licensure programs are also available through BCF, including Bachelor of Arts degrees in English Secondary Education, History/Social Studies Secondary Education, Leadership/Christian Education, and Education Studies. To reduce the financial burden of college, BCF offers numerous on-campus job opportunities through the BCF Student Employment Program.
5. University of Wisconsin—Superior
Overview
About 700 undergraduate students are enrolled in distance education programs through the University of Wisconsin—Superior. One of the most popular online programs is the Education major, which is available as both a Bachelor of Arts and a Bachelor of Science degree. This flexible, multifaceted academic program allows students to choose the courses and concentrations that best reflect their professional goals.
Program Features
The Education major includes tracks in Elementary Education; K-12 Art, Music, and Physical Education; and Middle and High School. Within the Elementary track, students can add an emphasis in Early Childhood. This track leads to licensure in pre-kindergarten through grade 6. Alternatively, they can add an emphasis in Middle School Teaching, which leads to licensure in grades 1 through 8. Coursework within the Elementary Education core includes:
Theories of Student Learning
Principles and Practices of Inclusive Teaching
Multicultural Education
Teaching Art in the Elementary Grades
Notables
Students in the Middle School Teaching track will complete a minor in one of 11 content areas, such as math, science, languages, social studies, or health. Over 82 percent of all UW-Superior students receive some form of financial assistance. UW-Superior scholarships are available both for first-time freshmen and for returning students.
6. Western New Mexico University
Overview
Western New Mexico University has been designated as a Hispanic Serving Institution and is a recognized leader in diversity. More than 50 percent of WNMU's 3,500 students are Hispanic. The inclusive atmosphere of the WNMU community is one of its key strengths, both on its Silver City campus and in its online degree programs. Education students will also benefit from the small class sizes and highly affordable tuition rates at WNMU.
Program Features
More than 200 online courses are offered at WNMU each semester, including many teacher education courses. The Education major at WNMU is offered as both a Bachelor of Arts and as a Bachelor of Science. In order to earn an elementary licensure, students will enroll in the B.S. track. Coursework within the Elementary Education licensure pathway includes:
Multicultural Education
Foundations of Education
Classroom Management
Corrective Reading
Notables
A student teaching placement is required for all teaching candidates. Students who wish to complete this requirement outside of the Cobre, Deming, Hatch, Lordsburg, Silver City, or T or C school districts must work with an advisor to arrange another placement site. WNMU offers a guaranteed tuition rate as long as undergraduate students maintain a 2.0 GPA and enroll in at least 30 credit hours per year.
7. Fort Hays State University
Overview
The campus of Fort Hays State University is located in the town of Hays, Kansas, about halfway between Kansas City and Denver. Traditional enrollment at FHSU numbers roughly 4,700. Enrollment for distance education programs through the Fort Hays Virtual College is over 6,600. The top-quality B.S. in Elementary Education from Fort Hays is available both on campus and fully online.
Program Features
A ranking from the National Council on Teacher Quality named the Elementary Education program at Fort Hays 12th in the nation among 2,400 similar programs. The ranking was based on content preparation, practice teaching, and the standard for admission to the program. Required coursework for this nationally renowned program includes courses such as:
Introduction to Instructional Technology
Human Growth and Development
Educating Exceptional Students
Curriculum and Assessment
Notables
Graduates from the College of Education have a 94 percent pass rate for the Kansas Performance Teaching Portfolio. Fully 100 percent of education graduates pass the two required certification exams (Principals of Learning and Teaching, and Content Area Specific Tests). A number of scholarships are available based on geographical location, with opportunities for students from Arizona, Texas, Virginia, Wyoming, Colorado, Missouri, Nebraska, Oklahoma, and many Midwestern states.
8. University of Alaska Southeast
Overview
Part of the University of Alaska System, the University of Alaska Southeast offers undergraduate and graduate degrees and certificates across a range of academic disciplines. Manageable tuition costs, culturally relevant coursework, and innovative online programs are all key elements of a UAS education. The university is home to excellent undergraduate programs in social science, special education, and elementary education.
Program Features
The UAS program leads to a B.A. in Elementary Education and teaching certification for kindergarten through grade 8. The curriculum for the program is based on state and national standards, including those set by the premier national accreditation body for educators, the Council for the Accreditation of Educator Preparation (CAEP). Core requirements for Elementary Education majors include:
Foundations of Literacy and Language Development
Inclusive Education for Students with Disabilities
Children's Literature in the Alaska Context
Classroom Management in K-8 Classrooms
Notables
The University of Alaska Southeast operates a unique program called Come Home to Alaska. The program allows students who are lineal descendants of current Alaska residents to receive in-state tuition, even if they are not themselves current Alaska residents. By qualifying for the Come Home to Alaska program, students can save up to $13,000 each year in tuition costs. Other scholarship and financial aid opportunities are also available to online students.
9. University of Southern Mississippi
Overview
The University of Southern Mississippi is a regionally acclaimed institution with a main campus in Hattiesburg. USM has been recognized by AffordableCollegesOnline.org for its online education programs, which were ranked among the top 35 in the nation. The unique Teacher Assistant Program (TAP) at Southern Miss offers a path to teacher certification for current teacher assistants.
Program Features
Through the TAP program, students can continue working as a teacher assistant while they pursue teaching licensure. The program culminates in a Bachelor of Science in Elementary Education and certification for kindergarten through fifth grade. In addition to a rigorous student teaching component, the Elementary Education track requires the following coursework:
Introduction to Literacy: An Integrated Language Arts Approach
Psychology and Education of Exceptional Children
Child Development
Foundational Studies in Early Childhood Education
Notables
The tuition rates at USM have been recognized as being among the lowest in the Gulf Coast region. Full-time undergraduate students have a flat yearly tuition rate that includes up to 19 credit hours per semester. For Mississippi residents during the 2017-2018 academic year, the tuition rate is $8,218 per year. Extensive need-based and merit-based scholarships are also available. High-achieving students with a core GPA above 3.0 and an ACT score of 30 or higher can receive a full scholarship to USM.
10. Mayville State University
Overview
Mayville State University has earned praise from the Community for Accredited Online Schools for the academic excellence of its extended learning opportunities. Established in 1889 as one of the very first colleges in North Dakota, Mayville State has more than 120 years of experience in outstanding teacher education. The university's regional campuses and online programs make it possible for students all over the country to take advantage of an education from Mayville State.
Program Features
Mayville offers a number of teacher preparation programs. The B.S.Ed. in Elementary Education requires a combination of online courses and interactive video network (IVN) courses. IVN courses take place once or twice a week during the evening on the Mayville State main campus. Required coursework for the B.S.Ed. includes:
Language Arts in the Elementary School
Child and Adolescent Psychology
Human Relations and Cultural Diversity
Students with Special Needs
Notables
Mayville State charges a flat rate for undergraduate online students, regardless of state residency or international status. As of the 2017-2018 school year, the rate is $293 per credit hour. Fully online programs are available leading to a B.A. in Early Childhood, an A.A. in Early Childhood, and a B.S.Ed. in Special Education.
11. East Carolina University
Overview
The National Council on Teacher Quality has recognized East Carolina University for the exceptional academic opportunities and career value of its teacher licensure programs. Although occasional on-campus, in-person meetings are required for education majors, all coursework for the program is available online. This allows for a high level of flexibility for students who are working while pursuing their degree.
Program Features
Education majors may choose between enrolling in a full-time cohort or a part-time cohort. Program starts for full-time cohorts are in the summer, while part-time cohorts begin classes in the fall. The program is intended for students who have already completed their lower division prerequisites either through ECU or through a community college. The education program at ECU leads to licensure for kindergarten through grade 6 and requires the following courses:
Foundations of School Learning, Motivation, and Assessment
Technology in Education
Classroom Organization and Management in Elementary School
Learning and Instruction in Elementary School
Notables
ECU has a number of scholarship opportunities specifically for education majors. For example, the Burke Scholars, Lane Scholars, Latham Scholars, and Maynard Scholars programs are all four-year renewable awards for aspiring teachers. The Office of University Scholarships and other ECU support services can help students find financial assistance.
12. Judson College
Overview
The first classes at Judson College were held in January of 1839, making Judson the fifth oldest women's college in the United States. The college remains committed to its mission of providing outstanding educational programs while fostering a community of young women that is centered in Christian faith. Judson is the only women's college in Alabama, and one of the most affordable women's colleges in the nation. The institutional commitment to service, affordability, and academic excellence has made Judson College an ideal place to earn an elementary education degree.
Program Features
Judson's fully online Bachelor of Science in Elementary Education leads to licensure in kindergarten through sixth grade. Students will complete all of the General Studies coursework before applying to the teacher preparation program. Once accepted, students will complete courses such as:
Behavioral and Classroom Management
Evaluation of Learning and Teaching
Reading in the Content Areas
Materials and Methods of Science and Health Education in the Elementary School
Notables
Teacher certification is only available for Alabama candidates, and all student teaching placements will be in Alabama schools. Numerous minors are also available fully online, including minors in Music, Psychology, Religious Studies, and more. Judson College boasts a placement rate of 96 percent for its recent graduates, either in employment or in an advanced program of study.
13. University of North Carolina at Wilmington
Overview
U.S. News & World Report ranks the University of North Carolina at Wilmington number 14 on its list of the Best Regional Universities in the South. The Watson College of Education at UNCW presents a highly acclaimed Bachelor of Arts in Elementary Education degree. This program combines the outstanding academics and commitment to affordability that UNC Wilmington is known for.
Program Features
The UNCW program in Elementary Education culminates in certification for kindergarten through sixth grade. Students must complete a minimum of 45 credit hours with a GPA of at least 2.70 before applying to the Elementary Education program. The Professional Education core for this degree track requires 31 credit hours, including courses such as:
Meeting Needs of Special Students in Elementary Schools
Foundations of Geometry, Measurement, and Data (K-6)
The Teaching of Communication Arts (K-6)
Integrating the Arts in the Elementary Curriculum
Notables
UNCW also offers a number of highly acclaimed, fully online programs at the graduate level, including an M.Ed. in Elementary Education; an M.A. in History for Educators; and an M.Ed in Curriculum, Instruction, and Supervision. UNCW has been recognized by Kiplinger's as one of the top 100 public universities in the nation for Best College Values.
14. Old Dominion University
Overview
One of the leading research universities in the Eastern United States, Old Dominion University has a main campus in Norfolk, Virginia, and satellite campuses throughout the Hampton Roads region. ODU Online, the university's distance learning division, has won national acclaim for its innovative, engaging learning environments. A degree completion program in elementary education from ODU Online leads into the acclaimed Master of Science in Education (also available fully online).
Program Features
The Bachelor of Science in Interdisciplinary Studies: Teacher Preparation is a non-licensure track. The program is designed to offer a seamless transition into a master's degree or non-degree certification track for elementary education. Candidates for the Teacher Preparation bachelor's degree will complete the following courses:
Fundamentals of Human Growth and Development: Birth through Adolescence
PK-12 Instructional Technology
Language Acquisition and Reading for Students with Diverse Learning Needs
Integrating Instruction Across the Curriculum
Notables
Only students in Virginia or Washington State may enroll in the elementary education program. As of the Fall 2017 term, the cost for Virginia residents for online undergraduate courses is $335 per credit hour. For non-residents, the cost is $369 per credit hour. A number of scholarships are available specifically for education majors, including the John Albert Gay Scholarship and the Frank Hill Knecht Memorial Scholarship.
15. Mississippi State University
Overview
Mississippi State University has garnered a reputation for offering high-quality, highly affordable academic opportunities for students all over the country. Education majors have numerous options through MSU's online programs, including a rigorous Elementary Education track. While the coursework for the degree is fully online, students will have an exceptional number of opportunities for clinical experiences during their undergraduate career.
Program Features
The Mississippi State Elementary Education degree will lead to Mississippi licensure for pre-kindergarten through sixth grade. Students will begin participating in field experiences during their junior year. Seniors will work full-time in an elementary classroom. The program requires a concentration in either Early Childhood or Middle School. All Elementary Education majors, regardless of concentration, will take the following courses:
Exploring Diversity Through Writing
Individualizing Instruction for Exceptional Children
Foundations of Elementary Mathematics
Early Childhood Education
Notables
Mississippi State does not charge an additional fee to non-resident students who attend online. As of the 2017-2018 academic year, the cost for Distance Education courses at MSU is $367 per credit hour. Institutional scholarships are available for outstanding academic performance and dedication to leadership and service. The College of Education also offers an extensive number of departmental scholarships for teaching candidates.
---
Related Rankings
FAQs
Sorry, we couldn't find any posts. Please try a different search.