Early Childhood Education
According to a PayScale survey, 75 percent of graduates with a bachelor's degree in special education say their job makes the world a better place.
Not only does this indicate the calling that is special education, but it demonstrates the deep understanding that compassion, patience, kindness, and humility are the virtues we all need to make this world a better place.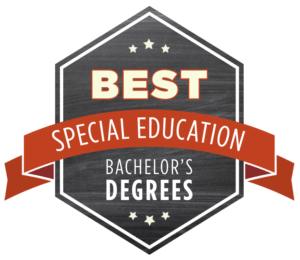 It has been said that teachers learn more than students. The demand for special education teachers is high as well as the possible burnout. The job is strenuous on every human level: mental, physical, emotional, social, and spiritual. With this in mind, universities address these demands through intensive training in legal, social, family, cultural, and educational areas related to teaching disabled students in a variety of settings.
If you are called to teach special education and are seeking the best school to gain the knowledge and skills for licensure and success, we hope to help you along the way.
What goes into earning a degree in special education?
Special education teachers work with students who have a broad range of learning, mental, emotional, and physical disabilities such as autism spectrum disorders, blindness, deafness, physical handicaps, and other disabilities. Special education teachers work with counselors, teachers, administrators, and other agencies that assist schools.
As far as teaching, special education instructors adapt general education lessons and teach various subjects, such as reading, writing, and math, to students with mild and moderate disabilities. Sometimes this occurs in self-contained classrooms and other times in mainstream classrooms. Teachers also teach basic skills, such as literacy and communication techniques to students with severe disabilities, plan individualized instruction, and group settings.
To be qualified and skilled for these tasks requires extensive training. Most special education degrees accomplish training through general coursework, a professional core of classes, and field work culminating in a student teaching experience.
Professional coursework usually focuses on training in differentiated instruction, evidence-based instructional methods, behavior management, career and lifespan education, communication with parents, assessment, an overview of exceptionalities and disabilities, social structures of schools, families, and communities, classroom management for special education, and legal aspects of the job.
The coursework varies depending on the degree, and some special education degrees have a particular focus such as mild to moderate disabilities or severe disabilities. Fieldwork also varies, though most programs have field experience in the last two years with the final semester of full-time, five days a week student teaching. Field experiences are designed to introduce individuals to teaching special education in different contexts such as self-contained classrooms, individualized instruction, and the general education classroom.
Some special education programs are available entirely online. Visit our ranking of the Best Online Bachelor's in Special Education Degrees to learn more.
What does a career look like for special education teachers?
According to the U.S. Bureau of Labor Statistics, employment of special education teachers is projected to grow six percent from 2014 to 2024, about as fast as the average for all occupations, with pre-school special education at nine percent. Though job growth is average, the demand for special education teachers is high because many burn out with the intensity of the work resulting in the constant need for schools to hire. The median annual wage for special education teachers was $57,910 in May 2016.
What are the best Bachelor's in Special Education degrees?
The answer to this question depends on many factors. For most people, the desire for the best quality at the lowest price is the sweet spot. Due to the intensity of the job and training special educators require, it's important to look for accredited schools.
Accreditation adds credibility and confidence to the program for you and potential employers. (A note about accrediting agencies: The two national accrediting bodies, the National Council for Accreditation of Teacher Education (NCATE) and the Teacher Education Accreditation Council (TEAC), merged to become CAEP on July 1, 2013.) Besides accreditation, look at the school's approach to field work—in general, the earlier and the more, the better. The fact is, teaching is experiential and is honed best with mentors guiding you in hands-on, real-world situations.
The best special education degrees have early and regular field work during and after coursework taught by experienced faculty. Take a look at the department. Are they experienced in the field? How long have they been teaching special education? What are they producing at a scholarly level? Lastly, the return on investment is important to consider.
The best schools are accredited, have excellent coursework taught by experienced faculty, have early and regular fieldwork, and have an affordable tuition that will pay off long term.
What is your methodology in compiling this list?
To rank the Top Bachelor's in Special Education, we examined specific data points using the IPEDS database, courtesy of the National Center for Education Statistics, reputable ranking organizations such as U.S. News and World Report and the National Council on Teacher Quality (NCTQ), and Payscale to determine average salaries.
After narrowing down the list from hundreds of schools, we collected data and assigned a total score for each school based on the criteria we felt was best. Our specific criteria break down as follows: Reputation (15 percent), tuition (30 percent), academic support per student (10 percent), and average early salary ten years after graduation (30 percent).
A note about our descriptions: we use the school's website to find general and specific features of each program, especially field experience and unique or interesting aspects, to help you get a glance of each program. As with all our rankings, we hope this assists you in your search for the perfect fit. Good luck!
1. Arizona State University
Arizona State University is an educational universe with no shortage of opportunities. ASU is ranked first on the Fulbright scholar's list, ahead of Cornell, UC Berkeley, Duke, and UCLA. The main campus is located in Tempe, Arizona, but the School operates five total campuses enrolling an incredible 91,000 students. ASU has a commendable 86 percent retention rate.
In the ASU tradition of excellence, the Mary Lou Fulton Teachers College offers a BAE dual program in special education and elementary education that leads to certification in Mild-Moderate Disabilities Special Education, K-12 and Elementary Education, Grades 1-8. Features of the program include an English immersion endorsement and an outstanding clinical teaching experience through iTeachAZ in the junior and senior years. One particular aspect of the iTeachAZ that is particularly relevant is the focus on using and integrating technology in real-world, real-time situations. Combined with outstanding mentors and foundational knowledge, graduates are prepared to make an impact.
ASU ranks #1 on our list for the excellent return on investment with a reasonable tuition at $10,158 and the average salary ten years after graduation is $79,700. The NCTQ Undergraduate Special Education Score of #1 overall and the impeccable reputation leave no doubt that ASU belongs at the top of the list.
2. Indiana University—Bloomington
Indiana University—Bloomington, the flagship campus of eight, has 16 schools and offers 550 degree programs in just about every field possible. There are over 300 students groups and 200 centers and institutes for the 40,000 students to utilize. Research plays a prominent role as IU is one of the 62 members of the Association of American Universities. "Innovation, creativity, and academic freedom are hallmarks of our world-class contributions in research and the arts."
IU offers the "Teaching All Learners: Exceptional Needs and Elementary Education" program. This BS in Special Education leads to certification in K—6. In addition to this, the TAL program offers a dual-degree in Elementary Special Education and Elementary General Education. Coursework moves through a liberal core and into more specialization such as Education of the Socially & Emotionally Disturbed and Education of Children with Learning Disorders. Field experiences begin in the second year and culminate in student teaching.
In addition to an excellent program, ranked #8 by NCTQ, IU ranks high due to a high average salary ten years after graduation at $82,100 and an affordable tuition of $10,388. Also factored into our ranking was the average academic support per student, which IU scored well on. Overall IU is an all-around solid choice.
3. University of Minnesota -Twin Cities
The University of Minnesota was established in 1851 in the Twin Cities as a land grant university. Organized into 19 colleges and schools, UM has sister campuses in Crookston, Duluth, Morris, and Rochester. This prestigious university has 30,500 undergraduate students on the Twin Cities campus, and 16,300 graduate and professional students. There are over 400,000 alumni worldwide.
The College of Education and Human Development (CEHD) offers a BS in Special Education The program leads to an Academic and Behavioral Strategist (ABS) teaching license. This particular program does not include preparation for severe disabilities. However, the convenient options exist to earn a specialty licenses in Early Childhood-Special Education, Learning Disabilities, Emotional/Behavioral Disorders, Developmental Disabilities, Deaf/Hard of Hearing, in conjunction with an MA/MEd degree within five years of graduation. The degree is research focused, as well as writing intensive in addition to field experience and student teaching.
With the fourth highest average early salary of $87,500, the degree has a good record of being a savvy long-term investment. Combined with an excellent reputation and the reasonable tuition of $13,790 demonstrates the distinct quality of UM's BS in Special Education.
4. Ohio State University
Originally founded for mechanical and agricultural training, OSU has become one of the largest and most comprehensive universities in the world. As a Public Ivy, OSU is bursting with academic opportunities, service opportunities, extracurricular groups, and accolades. Research remains a focus with expenditures in the top 10 in the U.S. OSU's main campus is in Columbus, with others in Lima, Mansfield, Marion, Newark, and Wooster.
If you're looking at OSU for a degree in special education, there are options and quality. There are eight programs and four licensure- and endorsement-only programs that specialize in teaching students with mild to moderate, moderate to intensive, early childhood or applied behavior analysis. The BS in Education, Special Education is accredited by the National Council for Accreditation of Teacher Education (NCATE) and the Council for Exceptional Children (CEC). There are three specializations within the BSEd degree: Early Childhood Intervention Specialist, Mild to Moderate Intervention Specialist, and Moderate to Intensive Intervention Specialist.
The #4 spot on our list is well deserved. The average early salary is $88,300, tuition is $10,037, and the U.S. News and World Report ranked OSU #18 for Best Education Schools.
5. The University of Texas at Austin
Like the state of Texas, the University of Texas at Austin is a world of its own. Founded in 1883 and located in Austin, UT enrolls 51,000 total students and has an $8.8 billion economic impact every year. The School offers 345 degrees in almost every field, as well as 450 study abroad programs; there is no shortage of opportunities to flourish.
UT Austin provides a BS in Applied Learning and Development, All-Level Generic Special Education Certification program. The four-year program provides a broad-based approach to special education with preparation for teaching mild to severely disabled students. The degree features general coursework that moves into specialized courses such as Cognition, Human Learning, & Motivation, School Organization & Classroom Management, and Teaching Individuals with Mild/Moderate Disabilities. The field experiences begin during junior year and last four semesters. They increase from one to two days a week to full-time teaching.
Something to count on at UT is strong academic support, with the average amount per student at $5,237. With this knowledge as well as the fact that tuition is $9,806 and the average early salary is $79,500 gives confidence that you will be fully prepared to make a difference.
6. Michigan State University
Michigan State University was founded as a land-grant institution established under the Morrill Act of 1862. With about 50,000 students from all 50 states and more than 138 countries, the School is vast and diverse. MSU offers more than 200 programs of undergraduate, graduate, and professional studies in 17 degree-granting colleges, not to mention more than 260 study abroad programs in more than 60 countries.
The Special Education Program at MSU is intensive. The five-year degree will leave you confident and qualified in both general and special education for K-12. Specifically, the bachelor's leads to certification in general education classrooms, grades K-5; all subjects in self-contained general education classrooms, grades K-8; children with learning disabilities in grades K-12; and a core subject area (their teaching major) in general education classrooms, grades K-8. With more than 1,000 hours of classroom experience, including a full-year internship, and 12 credits earned during the internship credited towards an MSU master's degree, there are definite advantages to earning your BS in Special Education at MSU.
By the numbers, MSU ranks high: 90 percent of graduates land a job in teaching or special education. Graduates can have confidence that employers recognize the value of an MSU degree; the average early salary is $85,700, and U.S. News and World Report ranked MSU #21 for Top Education Schools.
7. Purdue University
Purdue University has the second largest student body in Indiana and the fourth largest international student population of any university in the United States. The main campus in West Lafayette offers more than 200 undergraduate majors, and 70 master's and doctoral programs, along with professional degrees in pharmacy and veterinary medicine.
The College of Education at Purdue offers three options for Special Education: Dual Licensure, Mild and Intense Intervention P-12, or Mild Intervention P-12. Importantly, the program is NCATE accredited lending to greater credibility and confidence. Features of all three options include a focus on the four strands that guide the program: Diversity, technology, field experience and performance assessment, including the use of electronic portfolios. The Dual Licensure qualifies students to teach general education K-6 and special education PK-12.
With tuition of $10,002, academic support per student at a respectable $3,662, a U.S. News and World Report rank of #13 for Top Undergraduate Teaching Programs, and a #9 rank from the NCTQ, it's clear why MSU ranks in our top ten.
8. University of Wisconsin—Madison
With the third highest research expenditures in the country, at $1.1 billion, University of Wisconsin—Madison takes knowledge and innovation to the next level. UW is a Public Ivy and founding member of the Association of American Universities. The School offers 136 undergraduate majors, along with 148 master's degree programs and 120 doctoral programs to 40,000 total students.
At UW-Madison, there are two special education options: the Dual Elementary Education and Special Education degree and Special Education. Because our schools are becoming more diverse, the Special Education program has a particular focus on preparing students who can teach to all students. The degree also offers special education concentrations in Cognitive Disabilities, Learning Disabilities, and Emotional/Behavioral Disabilities. Upon completion, students are certified in all four areas at the Middle Childhood through Early Adolescence level, and also Early Adolescence through Adolescence. After moving through the liberal arts, professional, and special education specialization requirements, students are placed for 20 weeks with a collaborative team comprised of a special educator and general educator during their student teaching.
With high rankings from U.S. News and World Report for Top Undergraduate Teaching Programs and Top Education Schools at #14 and #3 respectively, combined with an affordable tuition at $10,415 it is easy to see why UW made the top 10.
9. University of Kansas
The University of Kansas is public research and teaching institution of 28,000 students offering more than 370 degree programs. KU is well known for science and research among other things and has been a member of the prestigious Association of American Universities since 1909.
The KU School of Education is accredited by the National Council for Accreditation of Teacher Education (NCATE) Standards through the CAEP Accreditation System. The BS in Education, Unified Early Childhood Teacher Education qualifies students to teach in special and regular classrooms. After completing the KU Core Curriculum and specialization courses such as Children's Literature in the Elementary School and Advanced Practices for Children with Disabilities, students fulfill the capstone student teaching. When all's said and done, KU graduates rack up approximately 800 hours of field experience beginning freshmen year. Another aspect of the program is the opportunity for students to engage in community outreach and political action through the student-led Kansas National Education Association (KNEA).
A look at some of the criteria makes the case clear why KU is in the top 10. The tuition $10,825 and the average early salary is $63,900, and U.S. News and World Report has ranked KU #17 for Best Education Schools.
10. University of South Florida
The University of South Florida System is comprised of three schools in Tampa, St. Petersburg, and Sarasota-Manatee. Students come from every state and more than 150 countries for a total population of 50,000. The economic impact of $4.4 billion is substantial and academic options are plentiful with more than 180 undergraduate majors and concentrations as well as over 40 graduate programs.
The BS in Exceptional Student Education leads to certification in ESE (previously varying exceptionalities) and an endorsement in ESOL. While moving through courses such as Child Development within the School Context, Language Principles & Acquisition, and Becoming a Special Education Teacher, students participate in three semesters of part-time field experiences integrated with coursework ending with one semester of full-day internship. Additional coursework is offered for those seeking the ESOL endorsement as well. In addition to regional accreditation, the College of Education is accredited by NCATE.
With proven quality, the BS in ESE at the University of South Florida is a high return on investment: Tuition is $8,841, and the average early salary is $58,200. Add to the financial element the excellent reputation with an NCTQ rank of #16 and one of the highest academic support per student at $8,841 and our #10 ranking comes into focus.
11. University of Georgia
Located about 60 miles northeast of downtown Atlanta on 800 acres is the main campus of the University of Georgia. With 36,000 students involved in over 700 student organizations, activities and opportunities abound. Academically, students can choose from 170 majors and programs in almost any field through 17 school and colleges.
The University of Georgia's BSEd in Special Education prepares individuals to work with mild disabilities and provides three areas of emphasis: General Curriculum, Adapted Curriculum and Autism, and Birth through Kindergarten/Preschool. The GC option trains individuals to work with in general classrooms with students who have behavior disorders, learning disabilities, mild intellectual disabilities, other health impairments, and some students with autism or Asperger's. The autism option involves training in behavior management, instructional strategies, technology-based supports, and transition skills for those with mild to severe autism; it is the only program of its kind in the state. The Birth through K/PreK option trains teachers to work with students with or without disabilities. Something unique at UG is student opportunities for action and hands-on experience through campus groups such as Extra Special People, UGA Special Olympics, or AutismUGA. You also can choose to participate in faculty research projects.
The tuition at UG is affordable at $11,622, and when considering that $65,200 is the average early salary, the return on investment is favorable. Also worth noting is UG's #35 ranking by U.S. News and World Report for Best Education Schools.
12. Georgia State University
Located in downtown Atlanta and bustling with the activity of 53,000 students is Georgia State University. The largest of the schools in the University System of Georgia means GSU leaves a big footprint. The University is known for research and diversity, and it offers 100 fields of study and 250 degree programs.
Georgia State has an impressive array of choices for those interested in special education at every level from endorsement and certification only to graduate work. Students can earn a BS in Education, Early Childhood and Elementary Education with Concentration in Early Childhood and Elementary Education (P-5) and Special Education General Curriculum (P-12) Dual Certification, BSEd in Middle-Level Education with Concentration in Two Content Areas (4th – 8th grades) and Special Education General Curriculum (P-12). Other options include a Minor in Special Education—High Incidence Disabilities, for those seeking to work in special education but not as a public school teacher or who are planning to move into a MAT or graduate work. The Bachelors of Interdisciplinary Studies—Concentration in Behavior and Learning Disabilities is also available. The BSEd in ECE Dual Certification program provides integration of the visual, theatrical and musical arts within the context of digital technology as well as field experiences and specialized coursework.
With one of the lowest tuition at $8,974, a #14 rank by U.S. News and World Report for Top Undergraduate Teaching Programs, not to mention the $62,100 average salary makes GSU a responsible choice.
13. The University of Illinois at Urbana-Champaign
Located in the twin cities Champaign-Urbana, the University of Illinois at Urbana-Champaign is the flagship campus of the University of Illinois system and a founding member of the Big Ten Conference. Recognized as a premier research institution, the University "pioneer[s] innovative research that tackles global problems and expands the human experience."
College of Education at the University of Illinois at Urbana-Champaign offers a BS in Special Education. The degree, called the Curriculum Preparatory for Learning and Behavior Specialist I in Special Education (LBSI), prepares individuals for work in K-12 settings and leads to certification. Embracing a threefold mission of teaching, research, and public service, UI's training is broad based and prepares students to teach to those with a disability, learning disabilities, social or emotional disabilities, autism, intellectual disability, physical disabilities, or multiple disabilities, in a variety of settings. The last five semesters focus intensely on SPED. This emphasis coincides with a lot of field work; beginning the junior year at two hours a week and slowing increasing to full-time by senior year. Lastly, there is an excellent grant program for those interested in working with severely disabled people.
U.S. News and World Report ranked IU as the 24th Best Education School giving it credibility. On top of this, academic support is one of the highest on our list at $6,477.
14. University of Central Florida
Located in Orlando, Florida, the University of Central Florida is a thriving research university with over 64,000 students. UCF earns its reputation as one of the most affordable colleges in the nation; students have the benefits of a diverse faculty and staff, top-notch research, and ample opportunity, all at a low cost.
The College of Education and Human Performance at UCF offers an Exceptional Student Education minor which is intended to provide a limited, but substantive experience in the fields of education and exceptional children. The minor designed for students who are seeking an enhanced understanding of education or are considering a career in the areas of education. This minor will strengthen the marketability of the student's major program. Many students go on to complete a graduate degree in Exceptional Student Education upon completion of this undergraduate minor.
With one of the lowest tuition costs on the list of $6,368 and an average early career salary of $53,500, the ROI is high. The NCTQ ranks this program at #11, and the graduate program is ranked #14 by U.S. News and World Report. Affordability puts the University of Central Florida in the top 20.
15. Western Washington University
"Not too big, not too small…" so reads the introduction to Western Washington University. Offering the academic choice, resources, diversity, and room of a large university along with the student to faculty ratio of a small college, Western Washington has it all. There are about 15,000 students and 160 academic programs.
The Woodring College of Education has several undergraduate special education degrees available. All of the programs lead to Teacher Certification in the Washington State public school system. These degrees include BAE Special Education P—12 and Elementary Education (Dual Endorsement), BAE Special Education P- 12 plus Content Endorsement, BAE Early Childhood Special Education P—3 and Early Childhood Education P—3 (Dual Endorsement). Another option for those who wish to work as a para-educator in the private sector can earn a BAE in Exceptionality and Disability. Regardless of what track you desire to follow, you know WWU is a quality education.
Ranked #7 by the NCTQ, and one of the more affordable colleges on the list, students will receive excellent teacher prep at a low cost. The tuition of $8,600 and the average early salary of $47,900 make the ROI on investment worth considering.
16. University of Utah
Founded in 1850 as a space-grant research university, the University of Utah is innovative, entrepreneurial, and research-oriented. Set on the slopes of the Wasatch Mountains in Salt Lake City, the campus is picturesque. The 32,000 active student body enjoys many outdoor activities. As for academics, the most popular majors are Communication, Psychology, and Economics.
The Department of Special Education at the University of Utah offers a BS in Special Education. The degree moves from pre-major courses through a teacher education core and into one of five specialization areas: Mild/Moderate Disabilities, Severe Disabilities, Early Childhood Special Education (birth—5), Deaf and Hard of Hearing, and Visual Impairments. The program and all areas of emphasis include intensive field experiences and lead to licensure in Utah. The faculty at UU are experts in the field of special education including research in educational reform, disability law and policy, reading/literacy, and early intervention.
One of the most notable factors making UU attractive is the affordable tuition of $8,197, one of the lowest on our list. The $49,400 average salary ten years after graduation also adds to the financial wisdom of a UU choice. Ranked #66 by U.S. News for Best Education Schools also increases confidence in the quality of the program.
17. Pennsylvania State University
Pennsylvania State University is a leader in teaching, research, and public service. The University's influence is enormous with 24 campuses, 100,000 students, a teaching hospital, the online World Campus, and "the largest student-run philanthropic organization on the planet." Penn State is a Public Ivy and offers a world-class education across many fields.
Penn State's BS in Special Education focuses on 13 major tasks or "competency clusters" preparing students to work with disabled children and qualifies them for the Pennsylvania Instructional I Certificate in Teaching the Mentally and Physically Handicapped. The Competency Clusters are specifically targeted skills designed for the special education teacher such as Specification of Instructional/Behavioral Objectives, Selection, Modification, and Use of Instructional Materials, and Behavior Management. The program is NCATE accredited and is recognized by NCATE reviewers for outstanding faculty and field experiences. In fact, the reviews stated that PSU's Professional Development School is a model for others to follow (click here for source).
With a fantastic reputation and recognition for quality, both from NCATE and U.S. News and World Report (ranked #38 for Best Education Schools), PSU will certainly not disappoint. Though tuition is higher at $17,514, the average early salary is $55,100 preserving a good return on investment.
18. East Carolina University
East Carolina University has humble origins. Founded in 1907 as a teacher training school on 43 acres, ECU now serves 28,000 students and owns over 1600 acres. It is one of 17 universities in the State University System and has the Main Campus, Health Sciences Campus, West Research Campus, the Field Station for Coastal Studies in New Holland, North Carolina, and the Millennial Research and Innovation Campus in Greenville's Warehouse district.
The BS in Special Education, Adapted Curriculum or General Curriculum prepares graduates for success. Both SPED curriculums lead to licensure. The AC track focuses on training for working with significant cognitive disabilities and students who are not pursuing a regular high school diploma. The GC track focuses on students with disabilities who are pursuing a high school diploma in the general education curriculum. Both program tracks prepare educators with the knowledge and skills suited for special education: Legal requirements, assessment for eligibility determination, instructional planning, and intervention, classroom structure and management, technology use, and more.
With the second lowest tuition on our list at $6,580 and a $52,300 average early salary, the return on investment is excellent. With the NCTQ Ranking of #12, confidence in the academic quality and the program's credibility are high.
19. Brigham Young University
Brigham Young University is a private research college operated by the Church of Jesus Christ of Latter-Day Saints located in Provo, Utah. Enrollment at BYU is the largest of any religious school and is nearing 37,000. BYU offers 178 undergraduate majors, 68 master's and 26 doctorate programs, with Business Management, Accounting, and Psychology among the most popular.
The BS in Special Education at BYU integrates teaching, research, and service.There are two tracks or areas: Mild/Moderate Disabilities and Severe Disabilities. The MD route involves training teachers to work with students in regular classrooms who have individualized plans. The SD track is tailored to help those with disabilities such as intellectual disabilities, autism, other mental disabilities, and health impairments that require self-contained classrooms and specialized training for basic life skills. Both tracks require intense field work beginning in year one, but especially the last three semesters. Also, students at BYU often volunteer for more experience in Adaptive Aquatics, Friday's Kids Respite and other disability-related service organizations, Best Buddies, and Student Council for Exceptional Children.
BYU has the lowest tuition on our list at $5,150, something certainly worth noting. As for the long-term financial picture, the average early salary of $55,200 ensures the wisdom of the investment.
20. Illinois State University
Illinois State Normal School, created by the Board of Education and legally drawn up by Abraham Lincoln in 1957 was formed to train teachers. Today, Illinois State University offers 21,000 students from 47 states and 67 countries a quality education. The University still focuses on teaching and is recognized as one of the top ten largest producers of teachers in America according to the American Association of Colleges of Teacher Education.
ISU's College of Education through the Department of Special Education offers a BSEd in Special Education Specialist in Learning & Behavior Disorders degree. The Learning and Behavior Specialist program now has the Teach Ahead 3.5 year sequence. This option gives graduates the unique advantage to obtain licensure eight months before other programs. Teach Ahead translates into starting a job earlier; sixty percent of fall 2015 special education graduates accepted teaching positions before commencement. It should be known, however, that the major is intense and involves a lot of field work. In fact, before student teaching, students will have spent than 600 hours in two semesters of field work with a diversity of children in various settings.
With a #6 ranking from NCTQ, known for rigorous standards, and an NCATE accreditation, rest easy, you will be prepared for the demands of special education.
21. The University of Hawaii at Manoa
The University of Hawaii at Manoa consists of 18 colleges and schools and offers 230 degree programs. Approximately 20,000 students call the University home. Known for its research in oceanography, astronomy, cancer research, and genetics, UH Manoa is the flagship school in the University of Hawaii system. It is located in Mānoa, which is an affluent neighborhood of Honolulu.
The Institute for Teacher Education offers two special education options, the BEd Blended; Early Childhood & SPED and the BEd Exceptional Students and Elementary Education (ESEE). A dual-certification program, the BEd Blended program requires campus visits on the weekend along with the online classes. Upon graduation, students will have two licenses, one for students with disabilities, and one for a regular PK-3 classroom. The ESEE program boasts, "The Exceptional Students & Elementary Education (ESEE) program is one of a small number of truly merged elementary and special education programs in the nation." The Program leads to licensure for Elementary (K-6) and Special Education.
Tuition at UH is $11,164 making it affordable and knowing that academic support is $4,473 per student means resources and opportunities are available. U.S. News and World Report ranked UH #69 for Best Education Schools.
22. Miami University
Located in Oxford, Ohio, 35 miles north of Cincinnati is Miami University. The School was founded in 1809 and is now a Public Ivy that has regional locations including Hamilton, Middletown, and West Chester, Ohio and the European Center in Luxembourg. The University is known for excellent liberal arts and offers over 200 degrees to nearly 20,000 students.
The College of Education, Health, and Society provides a BS in Inclusive Special Education (K-12). The program leads to an Ohio License in Mild to Moderate Disabilities and prepares graduates with knowledge and skills in characteristics of learners, social structures of schools, families, and communities, assessment techniques, classroom practices, law, statistics, electronic support systems, curriculum, and resources. Coursework accomplishes the training at MU by the Global Miami Plan for Liberal Education. The plan focuses on communication, critical thinking, and assessment skills and specialization courses with a substantial clinical experience component beginning the second year. Admission to Miami University or the College of Education, Health, and Society as a pre-major neither implies nor guarantees selection to a cohort.
Ranked #2 by U.S. News and World Report for Top Undergraduate Teaching Programs, the program is CAEP accredited. This recognition and overall reputation is impeccable put the slightly higher tuition of $14,287 in perspective.
23. Bloomsburg University of Pennsylvania
Established in 1839 as a literary academy, Bloomsburg University is a comprehensive public institution located 75 miles north of Harrisburg and 137 miles west of Philadelphia in Bloomsburg, Pennsylvania. BU offers 56 undergraduate programs and 20 graduate programs, including a doctorate to 9,700 total students.
At BU the College of Education's Conceptual Framework vision informs the Department of Exceptionality Programs. This particular emphasis for students of all backgrounds and developmental ability translates to a personal focus for educators. The Special Education (PK-8)/ Early Childhood Education (PK-4), Dual Certification Undergraduate Major at BU focuses on preparing future teachers, leaders and service professionals to make personalized connections and plans for all students. The Council for Exceptional Children Code of Ethics guides the program and graduates enter into public schools prepared. The program also trains individuals to work in community settings and private organizations or schools. The Department places a real priority on field experience, which begins early and continues throughout the professional sequence.
Ranked #16 by the NCTQ increases credibility and ensures the effectiveness of the program. The tuition is affordable at $9,326, and the average early salary is $48,600.
24. Vanderbilt University
In hopes that the University would help heal the wounds of the Civil War, Cornelius Vanderbilt gave the initial $1 million to begin Vanderbilt University. Since 1873, Vanderbilt has been contributing to the fabric of American culture with alumni in Congress, the pulpit, large corporations, and professional sports. The School has 12,000 students from all 50 U.S. states and over 90 foreign countries in 10 schools.
The Department of Special Education at Vanderbilt, nationally recognized as a leader in the field regarding training educators and scholarly production, offers an undergraduate interdisciplinary degree in exceptional learning combined with a BS in Education (either Early Childhood, Elementary, or Secondary). The Interdisciplinary degree focuses on one of three specialty areas: Mild and moderate disabilities (modified program), multiple and severe disabilities (comprehensive program), and visual impairment. At Vanderbilt education majors are required to take a second major, making the EC or Elementary degree combined with the interdisciplinary major in special education essentially a double-major.
Ranked #7 by U.S. News and World Report for Top Undergraduate Teaching Programs and #10 for Best Education Schools, Vanderbilt's reputation is pristine, and there is no doubt their training for special education is exceptional. VU has the top academic support per students on our list at $11,923. It should be noted. However, that tuition is the highest at $44,712.
25. Clemson University
Initially set up to teach scientific agriculture and the mechanical arts, Clemson is now one of the best all-around universities in the U.S. With about 22,000 students, 80 undergraduate and 110 graduate degree programs plus research and study opportunities across the world, there is no shortage of opportunities to seize.
The BA in Special Education at Clemson is affordable and credible. The program is NCATE accredited with the added accreditation of the International Council for Exceptional Children (CEC). Features of the program include research-validated instructional and assessment practices and integrated field experiences starting in year one culminating in a full-year of internship senior year. This focus on hands-on mentor training exceeds many schools as well as the state's requirements for field experience. Coursework complements field work with training in assessment strategies, IEP planning, and principles of effective lesson design and delivery. The degree prepares you to work with mild to moderately disabled students K-12. For elementary teachers, Clemson offers an endorsement in special education.
Regarding a financial investment, the long-term return is well worth it; tuition is $14,272 and the average early salary ten years after graduation is $64,100. With a solid reputation, an accredited program, and reasonable tuition, Clemson could be the perfect fit for you.