SPECIALIZATIONS
Education is not synonymous with school. Education is learning, and learning is part of being human.
Since this is the case, school districts, administrators, teachers, and teacher unions aren't the only ones who need skilled educators who understand how people learn, can facilitate the process, assess the outcomes, and design lessons.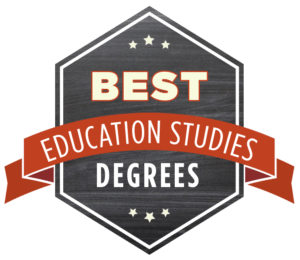 These integral components are necessary for many different organizations and individuals outside a school district and classroom. If you love the process of teaching and learning, enjoy designing curriculum, assessing learning, helping individuals or institutions improve through education, but do not want a traditional classroom teaching position, the Education Studies degree could be right for you.
What is the Education Studies degree?
The Education Studies degree is a broad-based approach to education and varies from school to school. The major is usually interdisciplinary and can be quite flexible regarding curriculum. Some programs are even offered fully online. Stop by our ranking of the Best Online Education Studies Degrees to learn more.
These degrees do not lead to teacher certification. Education is examined where it intersects with history, public policy, psychology, business, and culture and some schools focus on a particular area such as one of these.
Most universities include basic education courses in curriculum and instruction, assessment, educational psychology, and teaching diverse learners, the same or similar to teaching programs. This is where the differences begin though.
The distinctly interdisciplinary approach of the ES degree can go many directions depending on the curriculum of the school, or like some colleges, what you choose to make your curriculum. Also, note that some Education Studies degrees focus on classroom teaching and curriculum is parallel to teaching programs minus the student teaching; these are geared to school applications such as tutoring, teacher assistant positions or Head Start; they can also be used to prepare for a MAT.
Are you drawn to affecting change where education interfaces with policy? Are you more into institutional change or individual? Do you prefer to work in the background or do you desire leadership roles? These questions and more ought to be contemplated as you go looking for the school for you.
Who chooses the Education degree?
There are three groups of people who want the Education Studies degree:
1) Those who seek to engage in educational contexts other than the traditional classroom.
2) Those exploring the field of education but are unsure of career direction.
3) And those using the degree as a building block for graduate studies such as a Master of Arts in Teaching or MA in Counseling, for example.
What jobs can I get with an Education Studies degree?
There are many jobs in a great variety of fields. Applications include working in government agencies, nonprofits, hospitals, museums, private or charter schools, public policy organizations, businesses, service or volunteer organizations, youth camps, adult education programs, and more. Jobs available include:
Boys and Girls Club
Youth camps
Headstart
Peace Corps
Corporate Training Executive
Research analyst
Lobbyist
Program developer
Daycare Administrator
The demand for expertise in the process of teaching and learning goes far beyond the confines of the school building. Should you like more information on this topic, we examine this question further in our FAQs section.
What schools are the best for the Education Studies degree?
All of our rankings are designed to help you determine the answer to this question.  Perhaps the best way to answer it is to ask yourself more questions.
What is drawing you to consider an Education Studies program? Are you looking for a particular job? If you know the answers to these or remain unsure, this particular ranking is a great place to be.
Are you looking for the cheapest and fastest way to complete the degree or a college experience?  Whatever you're looking for, odds are it's out there, and we hope we can help you find it.
What is your methodology for this ranking?
We rank schools based on reliable data from reputable sources. The process we use is as scientific as possible. For this ranking, we gathered statistics from the National Center for Education Statistics using IPEDS, Payscale, U.S. News and World Report, U.S. Bureau of Labor Statistics, and school websites.
We choose targeted criteria we believe you, the student, wants and needs, assign a percentage to each criterion and "voila!" we have our ranking. The write up for each school is based on the school's website regarding the particular program or degree we rank. For the Education Studies degree, we included unique program and school features such as curriculum and study abroad options.
1. Arizona State University
Arizona State University in Tempe, Arizona is one of the largest and best universities in America. Enrolling over 90,000 students on five campuses, ASU excels in research, athletics, and academics (over 300 majors) giving those who attend ample opportunities for everything college offers. The School's $460 million in research in 2015 demonstrates their commitment to learning, discovery, and innovation.
The Bachelor's in Education Studies at ASU prepares you for work in educational contexts outside the traditional classroom setting. The Degree is designed to lay a solid educational foundation in fundamental knowledge, skills, and best practices. Taught by faculty and personally advised throughout the program, you move from general, to professional, to specialization studies. The specialization includes a focus in early childhood education, educational technology, physical activity and coaching, environmental education and educational policy. Understanding the Culturally Diverse Child, Service Learning: For Educators, Educational Psychology for Non-Teachers, and a Service Learning Capstone Project are examples of coursework. The program is 120 credits, and ASU will accept up to 64 from community colleges.
ASU's Mary Lou Fulton Teachers College is known for excellence. With tuition coming in at $26,470 and the average early salary at $79,700, ASU's quality and cost make it #1.
2. Yale University
Yale is synonymous with history, tradition, excellence, and beauty. Yale was founded"wherein Youth may be instructed in the Arts and Sciences (and) through the blessing of Almighty God may be fitted for Public employment both in Church and Civil State." Located in New Haven, Connecticut on a renowned campus, this Ivy-league mainstay educates 12,000 students who choose from 75 distinct undergraduate degrees, concentrated into 53 majors.
The Bachelor's in Education Studies at Yale "promotes a multidisciplinary understanding of the role of education historically, socially, politically, and economically." The program is definitely Yale-worthy requiring a more scholarly approach than other similar degrees. For example, the senior capstone project is a year-long research project that builds off your coursework; the Capstone includes a seminar followed by independent research. Another feature of the Education Studies program is the ability to self-design your curriculum focused on practice, policy, and research. All students take a healthy dose of core classes such as Theory and Practice of Emotional Intelligence, Child Development, and Foundations in Education Studies, but after that, you select areas of interest and are placed in an interdisciplinary cohort. Lastly, unlike some Education Studies degrees, Yale's requires field work and the option to do it internationally.
The unique scholarly focus at Yale is recognized and powerful. U.S. News and World Report ranked Yale #3 in "Best Undergraduate Teaching Degrees." Tuition is among the highest on our list at $49,480, though the long-term financial picture looks better with a $62,500 average early salary.
3. Wilmington University
Wilmington College opened in 1968 and is now a private, non-sectarian university enrolling over 20,000 students. Located in historic New Castle, Delaware, Wilmington University offers approximately 100 undergraduate and graduate degrees. The School is military friendly as well as generous in its transfer policy; WU will transfer up to 90 credits.
If you are interested in teaching and learning, but not in instruction in public schools, and you have a passion for helping individuals or institutions improve, the Bachelor of Science in Education Studies is worth considering. At WU, the BS in ES comes with four areas of concentration: Early Childhood Education, Elementary Education (K-6), Middle-Level Education (Grades 6-8), or Skilled and Technical Sciences. Please note, the Degree does not lead to licensure. These programs follow the parallel curriculum to licensure tracks without the fieldwork and student teaching. The ES program leads to employment in non-public school educational contexts such as a research analyst, education textbook editor, Head Start, Boys and Girls Clubs, youth camps, church ministry, private schools, and more. The BS in ES is offered in New Castle, Dover, Georgetown, and Online. Should you decide to earn licensure later, the ES degree smoothly transitions into most certification programs.
Wilmington has the lowest tuition on our top 30 at $10,670 per year. This tuition can be up to 75 percent less than other schools. In addition to affordability, the average early salary is a respectable $59,700. A school offering a quality education for this price alone deserves to be recognized.
4. Swarthmore College
Swarthmore College in Swarthmore, Pennsylvania was founded in 1864 by the Quakers. Since 1906 the School has been nonsectarian and has grown to become respected for academics in the liberal arts tradition for 1600 students. SC is part of the Tri-College Consortium with Bryn Mawr and Haverford Colleges. The campus is worth noting; it is 425 acres, comprising the Scott Arboretum, featuring rolling lawns, a creek, wooded hills, and hiking trails.
The Education Studies program at Swarthmore is unique. You have the option to 1) design an honors or special major in Educational Studies and another discipline; 2) minor in Educational Studies in the course or honors programs; 3) pursue elementary or secondary teacher certification. Essentially, the degree is a multidisciplinary degree that offers a lot of flexibility in design. For example, a Special Major is where you combine work in another department with Education Studies like biology or political science. The focus you choose could be Teaching and Practice, Educational Policy, Educational Psychology, Urban Education, Environmental Education, Literacy, and Special Education. You then have the option to add a minor, increasing your knowledge, skills, and hire-ability. Every option at Swarthmore includes research and fieldwork. Special majors also must complete a thesis or comprehensive exam or practicum.
The academic excellence and reputation at Swarthmore are their strength. U.S. News and World Report ranked Swarthmore #3 in "Best Undergraduate Teaching Degrees." Tuition, though is higher, at $49,104.
5. University of Illinois-Urbana Champaign
The University of Illinois is located in the twin cities Champaign-Urbana; it is the flagship campus of the University of Illinois system and a founding member of the Big Ten Conference. The University is large and comes with everything the college experience offers, academic options, beautiful and large campus, hundreds of student groups, competitive athletics, and cutting-edge research. There are 43,000 students at U of I.
U of I's Bachelor of Science in Learning and Education Studies prepares you to work in non-licensure educational positions in a variety of fields and contexts. After moving through a general core in humanities, science, technology, and mathematics in the first two years, you will then decide on one of four concentrations.  Concentrations are 1) Applied Learning Science; 2) Educational Equality and Cultural Understanding; 3) Workplace Training and Development; or 4) Digital Environments for Learning, Teaching and Agency. The 24-credit concentration component is the most distinctive feature. Each area is different, for example, the Applied Learning Science requires a research capstone. Many students choose to make these into a minor, which increases your marketability and skills. The key to determining whether UI is a fit is a close look at the concentrations with reflection on potentially related careers.
One advantage of a large school is the resource and support staff to help you. At U of I the graduation rate is 85 percent, indicating dependable programs, faculty, and support. Tuition is $30,680, and the average early salary is $58,100.
6. Salem State University
Established in 1854 as Salem Normal School, Salem State College is now a comprehensive, publicly supported institution of higher learning. The School is located in Salem, Massachusetts, a northern suburb of Boston 15 miles from the city. Enrollment was 9000 in 2016, and SSC generated an economic impact of over $827 million in Massachusetts in 2014.
There are so many teachers and educators that make a difference in our country. The ones we typically think of are public school teachers, and rightly so. However, there are a great many dedicated people who work in education, but not as teachers. They design curriculum, conduct research to improve learning, lobby our members of Congress, work with community organizations like Boys and Girls Clubs, museums, hospitals, businesses, and a host of other areas. If you are driven to help people learn but do not want to become a licensed teacher, the Bachelor of Science in Educational Studies-Community Education Concentration is for you. The program features a general core, educational courses, a supervised field experience, and 12 credits in community education with a capstone seminar and internship.
Assuming community education is the area you desire to engage in, there are few better options than Salem State. Tuition is one of the lowest on our top 30 at $16,148, the retention of first-year undergraduates is 80 percent, and the average early salary is $42,200.
7. Spelman College
Founded in 1881 as the Atlanta Baptist Female Seminary, Spelman is the oldest and first historically black college for women. Now enrolling 2,097 women, the School offers a liberal arts and science education for "intellectual, creative, ethical and leadership development." Spelman's acceptance rate is 41 percent.  The most popular majors at the College are Biological and Biomedical Sciences, English, Physical Science, Psychology and Social Sciences.
The Bachelor's in Education at Spelman "fosters within students a deep understanding of the complexity of education and schooling as well as an ability to think critically about the ways in which education intersects with a broad range of social, cultural, political and economic forces." Careers are available in youth advocacy, social work, service and nonprofit organizations such as Boys and Girls Clubs, private schools, museums, and more. Program details include exploring global, multicultural, and community education. A highlight to consider is that study abroad options are encouraged. These broadening experiences form reflective and critical thinkers. Also, a year-long immersive internship a broad during senior year for all Education Studies students.
Retention at SC is high, 90 percent, which means satisfaction is as well. This reality complements the 77 percent graduation rate and solid reputation for academics that comes with the historic college. Tuition is $27,314.
8. University of Missouri – St. Louis
The University of Missouri St. Louis is the largest public research university in eastern Missouri. The University is home to 17,000 students with an expansive alumni network of approximately 95,000 alumni in all 50 states and 63 countries. There are eight undergraduate colleges and schools and two graduate and professional schools; UMSL is one of only 17 schools that have an optometry school.
The College of Education offers the Bachelor of Educational Studies (BES). The BES prepares skilled and confident leaders and innovators who desire to make a difference in non-traditional settings. The program "builds around a student's interests with a unique mix of education, management, and content." The curriculum divides into one-third education courses, one-third management related courses, and one-third content area concentration selected from a wide selection of minors and certificates. Four main areas of emphasis are Early Childhood, Exercise Science and Wellness, Park and Museum Program, and Youth and Adult Development. All concentrations require an internship, which is where UMSL's location shines; St. Louis offers incredible opportunities in just about every field.
Data points to consider at UMSL are the reasonable $25,998 tuition and $50,600 average early salary (according to Payscale). Student retention is a high 87 percent and the graduation rate at is 68 percent. All in all, UMSL deserves to be in the top 10.
9. Kent State University
Kent State University is a public research university located in Kent, Ohio. KSU is large in enrollment, 34,000 total students on the main campus with seven regional campuses located in Ashtabula, Burton, East Liverpool, Jackson Township, New Philadelphia, Salem, and Warren as well. It is also large in terms of opportunities. KSU offers over 282 undergraduate degrees through 10 colleges and over 200 study abroad programs. There is something for everyone at Kent State.
The Bachelor's in Education Studies at Kent is an individualized and interdisciplinary degree. The purpose of the degree is to prepare you for a broad application of educational principles and concepts in a wide-array of educational contexts. For example, the ES degree can prepare you to work with youth in camps or centers, do social work, work in museums, parks, or businesses, essentially wherever education intersects with the world. The program focuses on teaching "program planning, technology utilization, interpersonal and multicultural facilitation and the nature of the particular educational function, which characterizes the options (program design, instruction, service delivery)." The curriculum follows a general, professional, specialization sequence and includes a semester-long internship that fits you.
The price is right at Kent with a tuition of $18,376 per year. This low cost means a manageable debt upon completion of the degree. Considering the financial situation with the Kent-quality education may be precisely what you want.
10. New York University
New York University Steinhardt is considered one of the premier research universities. It was founded in 1831 and is now the largest private university in the United States enrolling over 57,000 students. In addition to NYU Steinhardt's main campus, students learn through campuses in Abu Dhabi and Shanghai and operate 11 global academic centers and research programs in more than 25 countries. All in all, NYU is a place to thrive.
"Changing the World through Education" is the catchphrase for NYU's BA in Education Studies. The BA in ES can be taken full or part time, but either way, the focus is on how teaching and learning have been and can be applied to create social change. You were exposed to the challenges and unique solutions to urban and international education to become reflective about education in light of society, politics, economics, and culture. The program features a strong liberal arts core, something NYU is known for, and an interdisciplinary approach. The program is housed in the Department of Applied Statistics, Social Science, and Humanities which aids in connection education to multiple contexts. You choose a specialization in Globalization and Education, Schools, Communities, and the Contexts of Urban Education, Health and Human Development, Politics, Policies, and Economics, Arts, Languages, and Cultures, and Leadership and Social Entrepreneurship. A highlight of the program is the study abroad option.
Finances are critical to every examination of potential colleges. At NYU the tuition is high at $49,062; however, the average early salary is $96,000 (the highest on our top 30 ), and the unique global focus and reputation of NYU also have to be considered.
11. Lindenwood University
Founded in 1827 by Mary Easton Sibley and George Sibley, Lindenwood University in St. Charles, Missouri is the second oldest institution of higher learning west of the Mississippi. Known for academic excellence, LU is a comprehensive private school that is growing, now with 8600 total students. The University also has a sister campus in Belleville, Illinois.
Highly credentialed faculty and experts in the field of education will prepare you well at Lindenwood's BA in Education Studies program. The Degree is primarily a teaching degree without student teaching and state-mandated tests. Those who want to work in education but not want or need a license may find this program a fit. The LU Education Studies program is not an interdisciplinary or individualized program; rather the curriculum follows a traditional teaching program. Classes include core educational courses in Behavior Management, Orientation to Educational Experiences, School Observation, Psychology of Teaching and Learning, followed by specialization in early childhood, elementary, middle-level, K-12, or secondary education.
Lindenwood University's retention rate for first-time undergraduates is 66 percent. Tuition per year is one of the lowest on our top 30 at $16,332. According to Payscale, the average early salary is $47,600 making the long-term investment favorable. LU's graduation rate is 49 percent.
12. University of Wisconsin-Madison
The University of Wisconsin Madison was founded in 1848. It is a large, public, comprehensive university that is considered a Public Ivy and the flagship of the Wisconsin University System. UW–Madison enrolls 43,338 total students and offers ample academic options with over 400 bachelor's, master's, and doctoral degrees. Lastly, UDub athletics and student life are spirited and steeped in tradition.
The reputation for education programs at UW is outstanding. The Bachelor's in Education Studies is no different. Taking the University's emphasis on global citizenship and engagement with issues that matter, the ES program examines education where it intersected culture, society, business, and the global and multicultural context we are living. The degree does not lead to licensure, but it does result in jobs in educational and governmental agencies, non-governmental organizations (both domestic and international), think tanks, policy institutes, community organizations, and out-of-school educational spaces, education-related businesses or to pursue advanced studies in educational policy at the graduate level. The curriculum builds on a solid liberal arts core, and then you choose your "depth" and "breadth" requirements which circle around either a U.S. or global focus.
At UW-Madison, be assured of quality. U.S. News and World Report ranked the University #14 for "Best Undergraduate Teaching." Students recognize quality as the impressive retention stands at 96 percent. Tuition is at $32,738, making UDub an all-around solid choice.
13. University of Oregon
The University of Oregon is located in Eugene, Oregon in the beautiful Pacific Northwest. It was founded in 1846 and is "renowned for its research prowess and commitment to teaching" U of O serves 23,634 total students with a top-quality education through nine schools and 21 research centers and institutes.
U of O offers a BA or BS in Education Foundations. The Degree is a pre-professional degree preparing graduates who are highly competitive for admission into master's level teacher certification programs or other graduate school programs (social work, psychology, etc.) in Oregon and around the country. It also prepares critical thinkers who seek social change in educational settings such as school counselors, social workers, non-profit directors, AmeriCorps volunteers, Peace Corps volunteers, social workers, and more. The Degree does not lead to licensure. The distinctly U of O curriculum includes core courses in five thematic areas: 1) learning, teaching, and assessment; 2) curriculum theory; 3) equal opportunity; 4) literacy; and 5) technology. With this broad approach, you will be prepared to tackle the many challenges that are part of the world of education in any setting.
The 88 percent retention of first-time undergraduates reflects the general student's satisfaction in the University. Also, the graduation rate is 75 percent which indicates U of O students complete what they start.  Tuition is at $33,441.
14. University of Michigan-Dearborn
Founded in 1959 by a generous donation from Ford Motor Company, the University of Michigan-Dearborn is now a metropolitan public university serving nearly 10,000 students. It is one of the two regional campuses of the University of Michigan with the Ann Arbor and Flint campuses near. UM-D offers over 90 majors, 28 masters and three doctoral degrees in many disciplines with a traditionally strong engineering and management programs.
If you are interested in education as a subject, how people learn, the process of teaching, and the "lightbulb" moments but do not want a traditional classroom position, the Education Studies degree at UM-D may be for you. Designed to be "applicable to anyone interested in learning more about how people learn and how to use the foundational knowledge of education in a variety of different work environments" the program prepares you for many different jobs in many fields or further graduate work or licensure programs. Classes divide under headings: Learners and Learning, The Educational System and Pedagogy Electives. Classes include Adult Learning: Theory/Practice, Foundations of American Education, and Applications of Instructional Design to name a few. There is a capstone requirement for the major but not student teaching.
With an affordable tuition of $24,272 and an average early salary of $49,600, UM-D makes financial sense. Retention is respectable with 80 percent of first-time undergraduates returning.
15. Washington University in St. Louis
Washington University in St. Louis was founded in 1853 and is a private research university. It ranks high in many categories and currently boasts 25 Nobel Laureates. The University is made up of seven schools and offers a wide variety of degrees and programs to 15,000 students. WashU is known for research with over $613 million and over 3000 projects in 2015. Their focus is on innovation in medical, environmental, energy, entrepreneurial, and plant-science research.
The Education Studies major at WashU prepares students in a multidimensional, interdisciplinary approach to the field of education. For example, you examine questions about educational institutions, educational processes, and the social and cultural factors though psychology, applied linguistics, sociology, anthropology, political science, history, and philosophy. The ES major is 24 credits that are constructed on the outstanding WashU general core that emphasizes communication, analysis, critical thinking, and expression. A highlight of the ES program is the semester or summer in Washington D.C. This unique experience puts you in touch with major players in education from the United States Department of Education, The Pell Institute for Opportunity in Higher Education, Public Education Network, Teach for America National Headquarters, American Council on Education and much more. The program requires a capstone project and is also available to take as an Honors Program.
Employers or graduate schools will recognize your degree from WashU. U.S. News and World Report ranked the University #14 for "Best Undergraduate Teaching." Tuition is higher at $49,770 but needs to be seen in the light of the quality and average early salary of $59,400.
16. William Woods University
Growing out of the needs of female orphans from the Civil War, William Woods University is now a co-educational private university in Fulton, Missouri. WWU educates 3500 students using the service-learning model and offers some unique undergraduate programs, including an internationally recognized equestrian studies program, a four-year American Sign Language interpreting program, and a criminal justice degree with homeland security emphasis. The 225-acre main campus is wonderfully landscaped and includes some beautiful historic buildings.
The Bachelor of Science in Education studies at WWU follows parallel curriculum to the Elementary Education or Secondary Education degree minus the student teaching and state-required components. The degree is suited for those interested in teaching, but not requiring licenses such as some private schools, service or non-profit agencies, and other educational contexts. The BS in ES can also be a way to prepare for graduate work in education such as the MAT, MS in Education, or MA in Counseling, for example. After meeting general education requirements, the 38-credit parallel curriculum trains you in educational psychology, technology integration, multicultural education, and educational measurement and assessment which is then followed by one of two concentrations (each 12 credits), Ed Studies Elementary or Ed Studies Secondary.
For those looking for a smaller college, more intimate experience, WWU is a good fit. The rich tradition and history form thoughtful graduates ready to engage society for positive change. Retention is 75 percent, and tuition is affordable at $23,040.
17. University of Washington-Bothell
The University of Washington Bothell in Bothell, Washington is one of the three campuses of the public University of Washington. The School enrolls 5,113 undergraduate and 622 graduate students. UW Bothell offers over 55 degrees. The students enjoy a campus with award-winning architecture, state-of-the-art technology and breathtaking views of nearby wetlands and the Cascade Mountains.
The Education Studies degree at UW Bothell is designed for education-driven students who seek to work where education intersects with society in areas that are not as a traditional classroom teacher. For example, in children's hospitals, nonprofits, museums, or educational publishing houses to name only a few of the many possibilities. The ES degree focuses on a broad interdisciplinary approach to education with a choice of concentration in Curriculum, Instruction & Equity or Educational Leadership, Policy & Social Justice. The degree does not lead to certification, though there is an optional add-on to do that. Both of the concentrations in this degree have social change and leadership in mind regardless of your field of choice. Even though there is not student teaching all ES students complete the Applied Experience, a hands-on internship experience in educational settings, and the Capstone requirement, a comprehensive portfolio.
To attend UW Bothell is $34,728 a year, higher than the average on our top 30. According to Payscale, the average early salary is $51,800 maintaining a decent ROI. Retention and graduation rate is 84 and 67 percent respectively.
18. The College of St. Scholastica
The College of St. Scholastica "prepares students for a life of purpose." Founded in 1912 after Mother Scholastica Kerst and 28 Benedictine Sisters came as missionaries. She said, "My dream is that someday there will rise upon these grounds fine buildings like the great Benedictine abbeys. They will be built of stone: within their walls, higher education will flourish." Today this dream lives as CSS is a private college in Duluth, Minnesota offering 4,406 students bachelor's, master's degrees, and doctoral degrees.
The BA in Education Studies at CSS is a non-licensure program for pursuing alternative educational careers. The 39-credit (after core general education) program utilizes relevant knowledge about education through courses such as Secondary Health & Drug Education, Educational Psychology, and Human Relations.  Through these courses and more you look at the process and practice of teaching and learning that can be applied in contexts such as business, public sector, alternative education, child care, recreation centers, non-profit organizations, health and human services, counseling, social work and career services. St. Scholastica encourages ES students to pair their major with a language such as American Sign Language, French, German, Latin, Ojibwe, Russian or Spanish thus increasing hire ability and heightening your ability to communicate, think, and analyze.
Retention and graduation rate at CSS is 84 and 66 percent respectively, both respectable. Tuition is rather high at $35,326, and the average early salary is $52,700.
19. Roosevelt University
Interestingly, Roosevelt University in Chicago, Illinois was originally chartered as Thomas Jefferson College on March 28, 1945. However, President Franklin D. Roosevelt died two weeks later and the Board decided to change the name to honor the late President. The University now offers 70 undergraduate and 46 graduate degree programs to 4700 students. The main campus has one of the tallest educational buildings in the U.S., Wabash Building, and the historic Auditorium Theatre.
The BA in Educational Studies (EDUC) at RU focuses on Early Care and Education or Youth Development and Education. The major is not for those seeking certification as public school teachers; it is to prepare for careers such as a teaching assistant, coordinator of tutoring, or student support specialist to name a few. The sequence of the 120-credit program goes from a general education core to 45 credits of Education Studies, broken down into 15 credits of core Education Studies classes and 30 credits your concentration.  The Early Care and Education concentration include coursework in child development and literacy as well as field work/internship and a capstone project. The Youth Development and Education concentration includes courses in adolescent development and young adult literature as well and entitles students to a paraprofessional educator endorsement on an Illinois Educator License with Stipulations.
If you are looking for either of the aforementioned concentrations, look no further than Roosevelt. Tuition is doable at $28,119, and according to Payscale, the average early salary is $57,600.
20. Gwynedd Mercy University
Gwynedd Mercy University, one of 16 Sisters of Mercy colleges, is a Catholic university located in Gwynedd Valley of Lower Gwynedd Township, Pennsylvania, about 25 from downtown Philadelphia. The School provides a service and liberal-arts focused education with more than 40 academic programs. Enrollment in the fall of 2016 was 2035 undergraduate and 632 graduate students. Students enjoy an 11:1 student to faculty ratio and an active student life.
GMercyU's BS in Education Studies is a teacher preparation but not a teacher licensure program. The program essentially follows a teacher training track but does not include full-time student teaching. Most students who graduate with GMercyU's BS in ES degree move onto a licensure track or graduate school. Please note the degree is not an interdisciplinary degree that examines education through the lens of other departments or disciplines. THe focus is still on teacher preparation; coursework includes Education in America, Educational Psychology, Technology Integration in Education PreK-8, and Curriculum, Instruction, Assessment. There are two fieldwork experiences required in the 54 credit major (after general education core classes) and a capstone seminar.
The small school in the Catholic tradition may be the right choice for you if you want to study education but not to become a licensed teacher or if you're looking to prepare for a licensure program as a post-baccalaureate or graduate degree. Tuition is $32,480.
21. SUNY Empire
State University of New York Empire, known as SUNY Empire or Empire State College is located in Saratoga Springs, New York and is one of the 13 arts and science colleges of the State University of New York system. There are currently has nearly 19,000 students, mostly working adults pursuing associate, bachelor's and master's degrees on site at 35 locations in New York state, abroad, and online.
SUNY Empire was established in 1971 with the intention of serving working adults and families with non-traditional education, which led to their unique individualized and interdisciplinary approach. The Bachelor's in Education Studies program can be shaped into an interdisciplinary degree depending on your intended goals and career ambitions, or you can choose a focus like early childhood education. The Degree is not a certification program, though many use it as a stepping stone to Empire's MAT degree. It is typically used to lead to jobs that require a basic understanding of education knowledge and skills such as early childhood studies and program administration, teaching or training programs for adults, workforce development, community education, or international training and development.
A point of pride and distinctive of SUNY Empire is their commitment to staying affordable. This is why their tuition is among the lowest on our list at $16,835. The average early salary is $41,600.
22. Mount St. Joseph University
Challenging students "to discover your true calling and build a successful, productive career" is Mount St. Joseph University in Delhi Township, Ohio. Founded in 1920 by the Sisters of Charity of Cincinnati private, Catholic, co-educational college educates approximately 2000 students. Academic options include over 45 majors through a cooperative education, a work experience requirement for all students.
The Department of Undergraduate Education at Mount St. Joseph University offers a major in Educational Studies. The Degree is designed for you to learn to think and apply educational concepts across a variety of contexts; it is not for formal teaching and certification to teach at public schools. Outcomes include the ability to examine social, cultural, political, and historical perspectives to analyze and apply to educational practices to foster more learning for all, especially diverse learners, and to lead in positive structural changes. Learning at the Mount starts with strong liberal arts, followed by courses under the following headings: Major Courses, Major Electives, Learner Characteristics, The Social Context, Teaching Methods, Cognate Courses, and Communications. Job possibilities include disability services, family and children services, program development for corporations and nonprofits, adult education, and community outreach.
Looking the long-term investment reveals an average early salary of $40,200 and a tuition of $28,300. Though there are more inexpensive programs than MSJU, the unique, small private school with a Catholic tradition may just fit the bill.
23. Brown University
Brown University in Providence, Rhode Island is an Ivy-League school steeped in tradition, history, art, research, and culture. Brown founded in 1764 and now educates nearly 9000 students who choose from 70 concentrations,28 masters, and 51 doctoral programs. Brown is known for its global reach, cultural events, academic scholarship, and beautiful facilities located in a richly historic urban setting.
The Department of Education at Brown offers the Education Studies degree with two concentrators, Human Development or History and Policy. At Brown, you can count on a liberal arts core emphasizing scholarship, research, critical thinking, and expression. After this robust foundation, you will move into professional education courses dealing with fundamental philosophy, methodology, and pedagogy. The Education Studies portion is 10 courses, eight of which are through the Department of Education, and the other two other departments; five of the 10 are your concentration courses. Your area of emphasis takes you deep into the intersection of education and society, history, culture, and social policy. A unique Brown element is to further your studies through the Engaged Scholars Program, which is a hands-on experience working with community partners.
Brown is known for excellence in every area: academics, student life, facilities, student support, and research. Tuition per year is the second highest on our list at $51,366, but so are retention and graduation rates at 98 and 96 percent respectively.
24. Piedmont College
Nestled in Demorest in foothills of the Appalachian Mountains and also in Athens, Georgia is Piedmont College. Founded in 1897 the liberal arts college affiliated with the United Church of Christ (UCC) and the National Association of Congregational Christian Churches (NACCC) educates 2,200 men and women, representing approximately 20 states and 10 countries. The School offers more than 50 undergraduate degree programs, graduate programs in education and business, and a doctoral program in education.
The Bachelor of Arts in Educational Studies at Piedmont does not lead to licensure but rather provides a foundation for work in educational settings such as human services, educational publishing, nonprofits, museums, children's hospitals, galleries, or private schools. The degree is often suitable for those who started a teacher education program but changed their minds or for those who have not decided on a major but know the field of education is where they'd like to work; the BA in ES can also lead to graduate work. The curriculum is parallel to teaching programs and you choose one of four areas, Middle Grades Education, Secondary Education, Spanish Education, and Early Childhood Education. The ES program includes a minimum of 30 credits in Education courses including the capstone; student teaching is replaced by courses you choose approved by your advisor.
The student to faculty ratio is 14:1 and most professors hold a doctorate or the terminal degree in their field meaning you are getting professional and personal training. The cost is low with tuition at $23,112.
25. Colorado College
At the foot of the Rocky Mountains in Colorado Springs, Colorado is the small yet vibrant Colorado College. Nearly 2,000 students enjoy the gorgeous campus views and buildings that are on the National Register of Historic Places. Academics is structured through the Block Plan, where you'll take one class at a time for 3 ½ weeks with block breaks, four days to relax or explore. The five most popular majors are Economics, Sociology, Political Science, Organismal Biology & Ecology, and Environmental Science: Integrated.
The Bachelors in Education major at CC is the same broad-based approach to education that is typical for Education Studies degrees. It is designed for students who are passionate about teaching and learning in contexts outside the traditional classroom. The CC degree follows their unique Block Plan and includes courses such as Power of the Arts in Education, Framework for U.S. Education, Diversity and Equity in Education, Educational Interventions, and Advanced Research. Included in the Education Major is an optional study abroad unit.  Students have the opportunity to study in Budapest for Math Education, Chile for Comparative Ed/Social Change, Senegal for Education and Culture, and the Dominican Republic for ESL training.
U.S. News and World Report recognizes Colorado College's quality with a #13 rank in "Best Undergraduate Teaching." The cost is, though, one of the highest on our list with a tuition of $50,892.
26. Saint Mary's University of Minnesota
Founded in 1912 and affiliated with the Catholic De La Salle Christian Brothers, Saint Mary's University of Minnesota offers 5900 students a private, comprehensive education. Through the distinctly Lasallian Catholic heritage, SMU "awakens, nurtures, and empowers learners to ethical lives of service and leadership." The University's main campus is in Winona, Minnesota, but has graduate and professional schools in Winona, the Twin Cities, Rochester, Apple Valley, Oakdale, Minnesota.
The Education Studies major at is a creative, unique partnership between the School of Education, Sociology Department, and Theology Department. The focus of the degree is for individuals interested in the complex educational web of society, culture, history, policy, and equity. There are essentially three areas that graduates with the ES major go into social and behavioral sciences, non-licensed teaching/education, and graduate school. The ES degree at SMU comes with a choice of four concentrations: Adult Education Contexts, Child and Family Contexts, Religious Education, or Youth Development and Leadership. Jobs include educational policy, education law or policy, adult basic or adult ELL education, community education, environmental or outdoor education, Head Start, Montessori or Waldorf training, museum education, religious education, and youth leadership.
Tuition at SMU is $32,575 and the average early salary is $37,000. Retention does indicate satisfaction at 80 percent.
27. University of New England
The University of New England has three campuses in Biddeford and Portland, Maine, and a campus in Tangier, Morocco. The School is on an incredible growth trend from 4000 students in 2006 to 12,000 in 2016. UNE offers more than 70 undergraduate, graduate, online, and professional degrees and is now the largest educator of healthcare professionals in Maine. Also noteworthy is the impressive $1 billion in annual economic impact in the State of Maine.
At UNE, the catch-phrase is "Innovation for a Healthier Planet." While this image naturally conjures up science and research, there are countless souls across the fruited plains solving social and cultural programs one at a time. Many of these people and organizations utilize educational knowledge and skills to advance their mission. If you are geared to be involved in education but not planning to teach in a public school, the Education Studies program is for you. At UNE the curriculum is parallel to the Elementary Education program, but instead of student teaching, you replace the internship with one of your choosing. Careers opened with this major include working in a charter or alternative school, holistic learning classroom, education company, science center, state or national park education program, youth camp, museum, early childhood center, tutoring center, or government office.
Tuition is $35,630 per year, a middle-of-the-road number, and the average early salary according to Payscale is $48,700.
28. Colgate University
Colgate University in Hamilton, New York is almost two centuries old. Founded in 1819, Colgate provides a private school education to approximately 3000 students.  Historic structures and green spaces adorn the 575-acre campus. Students enjoy over 195 student groups and a 9:1 student to faculty ratio. Business/management, Communications/Media, Consulting, Education, and Financial services are the top five majors.
If you are interested in "studying the problems and prospects of education, the nature and function of educational inquiry, the processes and outcomes of educational practices, the role of educational theory in school practice, and the relation of educational institutions to other social institutions" the Education Studies major delivers. This non-certification degree grounds you in fundamentals to foster positive change.  Courses include Theories of Teaching and Learning, Inquiry-Based Teaching in the Schools, Democracy and Education, The American School and the Senior Seminar. The program allows an honors designation should you complete and orally defend a research topic of your choice. Lastly, there is a unique opportunity to gain valuable experience internationally through the South Korea Study Group.
The strengths of Colgate are history, tradition, academic excellence, and rigor. The weakness of the school is the fact they have the highest tuition on our list at $51,955.
29. DePauw University
"For more than 175 years, DePauw has created an atmosphere of intellectual challenge and social engagement that prepares students for lifelong success."  Located in Greencastle, Indiana and serving 2300 students, DePauw's challenging liberal-arts curriculum to smaller classes and a 10:1 student to faculty ratio. The top seven industry graduates are Advertising & Media, Consulting, Healthcare, Retail, Banking, Technology, and Higher Education.  With all the trappings of a big school without the feeling of anonymity, DePauw is a place to thrive.
There are alumni stories on DePauw's Education Studies page. All three women went through the Education Studies program and are thriving and making a difference; one is going on to graduate school, one to law school and the other (who double majored in English and Education Studies) to teach English in Thailand.. All are emphatic that their undergraduate work in Education studies courses, internships, research and overall experience helped them hone their passion for change and guide them to what's next. Curriculum for the degree includes courses that "investigate topics such as the sociology of education, the political economy of education systems, and theories (critical and traditional) of learning and development as well as engage in cultural, historical and philosophical studies of education."  If you want to make a difference in the educational world in nontraditional ways, explore the topic, or prepare for graduate work, there are only a few schools that can do it as well as DePauw.
The educational quality of the ES program is respected at DU. The financial picture is doable but not highly desirable with a high tuition of $46,448 and average early salary of $47,900.
30. Ohio Dominican University
Located in the busy city of Columbus, Ohio, Ohio Dominican University is a Catholic liberal arts university. Established by the Dominican Sisters of St. Mary of the Springs in 1911, the School retains their tradition of intellectual curiosity and humanistic education today. Nearly 2000 students enjoy 40 undergraduate and eight graduate degrees. Students enjoy small classes and personalized education with a 13:1 student to faculty ratio.
Choose one or more concentrations in ODU's BA in Education Studies: Child Care Administration & Management, Curriculum & Instruction, International Education/Global Studies, and Peace Education. The ES degree is flexible and interdisciplinary.  It is for students drawn to the educational universe in settings other than classroom teaching. Building on the important liberal arts education ODU is known for, you will zoom through Educational Psychology, Introduction to Sociology and core education classes into your concentration. Each one is unique, for example, the International Education includes a study abroad option and the Peace Studies is uniquely focuses on social justice with an internship and senior seminar. The program does not lead to certification, though some use it as preparation for graduate work.
If you're seeking a Catholic university and Education Studies degree, ODU fits the bill. Tuition is $31,080 per year, and the average early salary is $42,900.