SPECIALIZATIONS
In our culture, we tend to think of education as the time you sit in classrooms, take notes, and pass tests. Obviously, though, education continues before, during, and after time in class.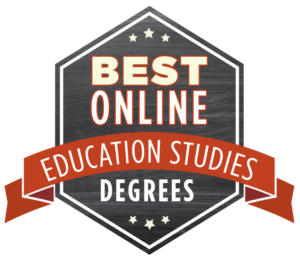 In our fast-paced, globalized world, with instantaneous information at our fingertips, the demand for skilled educators is high across a great variety of fields. Corporations require training and professional development, and where they do, someone who understands teaching, learning, and assessment is required.
Educational publishers need people who understand educational psychology and curriculum development and know how to communicate. Boys and Girls Clubs across America continue their good work and need educational directors to keep programming relevant for our youth.
Policy groups and lobby organizations want motivated and informed lobbyists who understand the history of American education and are passionate about positive social change. These examples aptly illustrate why schools offer the Education Studies degree.
What is an Education Studies degree?
The Education Studies degree is a non-licensure program that examines education in a multidisciplinary approach. (If you are seeking teaching licensure, visit our ranking of the Best Online Bachelor's in Elementary Education Degrees.) Universities often house the ES program in the College of Education, which in turn works with the Department of Psychology, Social Studies, or Business.
There is great variety in how each school administers the ES program, but in general, you can expect coursework to cover educational basics and then go into a particular focus or emphasis; some schools allow great flexibility and include the student in making the curriculum. Some sample classes are:
Social Context of Education
Educational Psychology
Curriculum, Methods, and Assessment: Literacy and Language Arts
The Politics of Education
History of Education in the United States
Neighborhood Schools and Social Inequalities
Development and Assessment of Workforce Education Curriculum
The Science and Politics of Testing in the US
Some programs offer parallel curriculums to teaching programs minus the student teaching and state testing component. Most schools still include internships in the area of emphasis though.
What jobs can I get with an Education Studies degree?
There are an incredible amount of potential jobs out there with the ES degree. Depending on the focus of your degree, you can work in educational settings such as:
Children, Family and Community Outreach
Youth Development
Nonprofit/Social Service Organizations
Early Childhood Education (Non-certification)
Higher Ed/Student Affairs
Entrepreneurship
Social and Educational Policy
Corporate Careers
Education Law
Juvenile Justice Advocate
Development of Educational Programs
Classroom Teaching (Alternative to Traditional Licensure)
If you're interested in jobs for each one of the areas above, please see our more extensive FAQs on this question.
Why choose the Education Studies degree?
In our FAQs section, we define the degree as "an interdisciplinary degree the blends liberal learning about education, research, and real-world experience for diving into the world of education as a teacher, policymaker, researcher, activist, social worker, consultant, and more."
If you are passionate about making positive social change, want to get involved in education but not as a public school teacher, this degree could be what you need. Many schools offer the option to choose your emphasis.
There are also many affordable options available. If you want to explore the field of education but aren't completely sure where to end up, the broad-based degree can help give direction. It is also common to use the degree to move into graduate work in either education, with, for example, a MAT or Educational Leadership or other fields.
What is your methodology for this ranking?
The foundation of all our rankings at Best Education Degrees is dependable data. We then build ranking criteria selecting the most relevant categories with the student in mind.
For this ranking, we retrieved accurate statistics on reputation, tuition, graduation rate, retention, and average early salary from the U.S. Bureau of Labor Statistics, the IPEDS database, courtesy of the National Center for Educational Statistics, Payscale, school websites, and U.S. News and World Report.
1. Arizona State University
Arizona State University in Tempe, Arizona was founded in 1885 as the Arizona Territorial Normal School Arizona State University. Today ASU is ranked first on the Fulbright scholar's list and has far too many accolades to mention here. There are 91,000 students at ASU's five campuses who choose from over 300 majors. ASU is one of the premier research universities in our country; ASU is recognized by Carnegie as an R1 designation and received $460 million in 2015.
If you decide to earn your degree through Mary Lou Fulton Teacher's College, you choose one of the best teacher training schools in the nation. Mary Lou Fulton undergraduate students have a 92.5 percent employability after graduation, and the School is recognized for its quality. The Bachelor of Arts in Education, Education Studies degree is designed for those who wish to get involved in education outside the traditional public school classroom.  Settings include the workplace, cultural institutions and people's interactions with media, camps, agencies, nonprofits, and private schools. The program does not lead to licensure. To complete the program, you take 40 classes, averaging 7.5 weeks per class. Courses include Social Embeddedness of Educational Endeavors, Community, Family, and Education, and Leadership and Advocacy in Educational Endeavors to name a few.
Ranked #4 by U.S. News and World Report in "Best Online Bachelor's Programs," ASU's reputation is impeccable. Add to the quality the low cost of $540 per credit, and the highest average early salary on our list at $79,700 and ASU rises to the top.
2. Maranatha Baptist University
"To the Praise of His Glory" is Maranatha Baptist University's motto. Founded in 1968 in Watertown, Wisconsin, MBU has been training leaders in the Christian worldview to make a difference in the world. The School enrolls 900 students who choose from more than 30 majors, 40 minors, and eight graduate programs. The most popular majors are Pastoral Studies, Humanities, Nursing, Elementary Education, Biology, and Business Management
The Online Bachelor of Science in Education Studies at Maranatha is a flexible degree that allows you to teach in private schools, take an alternative pathway to licensure for public schools, or engage your passion for education in non-classroom contexts. The scope and sequence of the 128-hour program move from general Biblical and liberal arts core with classes such as Christian Life, Leadership, & Evangelism and Rhetoric & Communications, to an educational core, with classes such as Educational Psychology and Biblical Perspectives in Human Relations. And finally to the Educational Cognate Area, where you choose an area like Business or Elementary, for example, to the 22 Open Electives that give you the ability to learn the knowledge and skills you are primarily interested in. The degree program is designed to meet both AACS and ACSI requirements.
Not only is the MBU degree flexible, but it is also affordable and of high quality. The tuition per credit is $386 and the program ranks #119 of the "Best Online Undergraduate Programs" by U.S. News and World Report.
3. University of Missouri
Founded in 1839, the University of Missouri in Columbia, Missouri, was the first public university west of the Mississippi. Columbia's population is 116,906 and is often called "the Athens of Missouri" for its beauty and classical architecture, of which UM plays a leading role. The University has classic quads and historic buildings, perfect to throw a disc or read a book. UM has 35,000 total students and offers 92 bachelor's, 85 master's, and 64 doctoral degrees as well as 93 online degrees.
The College of Education at UM offers a Bachelor's in Education Studies (BES) 100 percent online. The 120-credit program is an interdepartmental program due to the nature of the degree. The degree is quite flexible concerning courses and application; it is focused on broad-based approaches to education in different contexts. You can choose to emphasize the area that interests you: business management, computer applications, construction and industry project management, culinary arts and restaurant management, digital media production, entrepreneurship, or health sciences occupations. The School is generous regarding transfer credits as it allows up to 59. A few samples of courses include Foundations of Adult Workforce Education, Developmental Aspects of Human Learning, and Occupational Analysis. The Degree does not lead to teacher certification.Be sure to see if you're eligible for a 10 percent tuition reduction with Mizzou Online Community College Award or Mizzou Online Military Tuition Award.
The rock-bottom tuition of $355 per credit is most attractive. Also, the online program is recognized as the #156 ranked school by U.S. News and World Report. UM has the highest retention rate at 87 percent.
4. Central Methodist University
Founded in 1854, and located in Fayette, Missouri, Central Methodist University is a four-year, private, liberal arts university with a United Methodist heritage. CMU's focus is on academic excellence, individual achievement, and social responsibility. The University enrolls 1,100 students on the main campus, and more than 4,000 through online education and other locations and centers. CMU has a beautiful campus, designated in 1980 as the Central Methodist College Campus Historic District.
The Bachelor's in Education Studies at CMU is offered on the main campus, online, and at CMU's centers giving you the ultimate choice in how and where to complete the degree. The Education Studies degree is designed for those seeking non-traditional education careers, not in the public school classroom; the degree can be a pathway to graduate programs that lead to certification, however. Typically the program is a good fit for those who want alternative certification at private schools or who are working towards an education career in government agencies, corporations, nonprofits, youth centers or camps, and more. Through CMU's program, you will "develop workplace skills that allow you to naturally analyze information, answer questions, communicate effectively, develop ideas, hold an audience's attention, and encourage others to grow and learn." Coursework involves a general core and area of emphasis that you work with an advisor to determine.
Central Methodist has the lowest tuition per credit on our list at $250. This fantastic price ensures your financial health after graduate. According to Payscale, the average early salary is $44,100.
5. Wilmington University
In 1968, 194 students walked through the doors of Wilmington College. Since then, the college has grown into a private, non-sectarian university offering many undergraduate and graduate degrees. Located in New Castle, Delaware, Wilmington University now enrolls more than 18,000 students.
Wilmington University's Bachelor of Science in Education Studies comes with four areas of concentration: Early Childhood Education, Elementary Education (K-6), Middle-Level Education (Grades 6-8), or Skilled and Technical Sciences. Though the degree does not certify or lead to certification in public schools, you can transfer into a teaching licensure program easily. The BS in Education Studies is suited for those who want to work with youth in jobs that do not require certification. For example Head Start, Boys and Girls Clubs, youth camps, AmeriCorps and more. Utilizing Blackboard, students pursue their degree via the web, chat, email, and video making WU's BS in ES 100 percent online. The three non-technical concentrations above are parallel curricula to the teaching licensure program but do not include the clinical experiences. The Skilled and Technical Sciences concentration is the same curriculum as the Bachelor of Science in Career and Technical Education and does include a capstone project.
The financial considerations nicely complement the online flexibility and a quality of the program. The tuition is cheap at $363 per credit and on top of that the third highest average early salary on our list at $59,700.
6. Grand Canyon University
Grand Canyon University in Phoenix, Arizona is in the midst of a massive growth trend. In the last few years, the school has added new buildings, many of them state-of-the-art, programs, and students. Founded in 1949 with an entrepreneurial and evangelical spirit, GCU is a for-profit Christian research university. There are currently 20,000 traditional students and 60,000 online students at the University.
If you are passionate about education and making a positive change in our society, the Bachelor's in Education Studies at GCU is worth considering. This non-licensure program leads to jobs in education settings such as non-profit organizations, private elementary schools, daycares, early childhood education centers and social service agencies. The 120-credit program builds on a general core where you learn to "think critically, communicate clearly, live responsibly in a diverse world, and thoughtfully integrate their faith and ethical convictions into all dimensions of life." Educational courses in Instructional Technology, Cultural Diversity in the Classroom, and Educational Psychology train you to apply knowledge to a variety of educational contexts. Full-time faculty and adjunct professors teach you in the 100 percent online program.
GCU is known for their flexible, convenient and very affordable programs. The BS in ES is the same with tuition at $440 per credit. This low cost in the short run is strengthened by the $56,000 average early salary.
7. North Greenville University
North Greenville University was founded in 1892 and is affiliated with the Southern Baptist Convention. The intentionally Christian university enrolls about 2500 students who choose from over 50 undergraduate, online undergraduate, and graduate degree options. NGU is located in Tigerville, South Carolina, at the feet of the scenic Blue Ridge Mountains 11 miles north of Greenville, South Carolina.
The CAPS Educational Studies Department offers the Elementary Education Studies Degree. This bachelor's degree program is essentially the same a licensure program minus the student teaching and clinical experiences. It will prepare you for jobs that do not require licensure or that require alternative certification. For example, Head Start programs, youth programs, Boys and Girls Clubs, private schools, service organizations, and ministry or church positions. Coursework includes fundamental knowledge and skills in lesson planning, assessment, child development, integration of technology, and more. A feature of the program is that you create a personalized website, useful for getting hired and continual professional development. Please note the generous work to credit option at NGU – you may apply your personal work-related experiences for up to nine credit hours.
Tuition at NGU is $455 per credit. Combined with the average early salary of $50,114 makes the return remain favorable. Retention of first-time undergraduates is 73 percent.
8. Mary Baldwin University
Augusta Female Seminary was founded in 1842. With a distinctive liberal-arts focus, which the motto nicely illustrates, "Not for time, but for eternity," the school continues to be academically rigorous. Now known as Mary Baldwin University in Staunton, Virginia in the heart of the Shenandoah Valley, the private school offers more than 50 majors and minors to 656 undergraduate women, 528 Baldwin Online and Adult program women and men, and 577 graduate women and men.
Unique to our list, MBU includes a licensure track in their Liberal Arts and Educational Studies degree. The Bachelor's program lives up to MBU's excellent liberal-arts core and also includes the senior capstone project, a hallmark of all Mary Baldwin majors. You will focus on elementary and special education content under the State of Virginia's guidelines for highly-qualified teachers. With the mission "to prepare confident practitioners who apply solid academic knowledge, strong leadership skills, and compassion for others to serve learners in diverse communities" you will be able to enter the education field ready to go on day one. Not only will you enjoy the outstanding faculty with the personalized feel only a small school with such rich tradition can provide, you study on the historic main campus with green spaces and architecturally beautiful buildings.
Tuition per credit is $460 and the average early salary is $49,000. Objectively MBU makes financial sense, but when you add in the quality education and rich tradition, the real value emerges.
9. St. Petersburg College
St. Petersburg College is part of the Florida College System and is located in Pinellas County, Florida. Initially set up as a two-year junior college, SPC grew to become what is today a comprehensive career-focused four-year college offering more than 100 degree and certificate programs. The school enrolls a total of 57,000 students at as campuses and centers.
The interdisciplinary Bachelor of Science in Educational Studies and Community Leadership is designed for those not desiring to earn licensure for public school teaching. Rather, it suits those who love the learning and teaching process but are pursuing non-school educational contexts such as nonprofits, business, service agencies, government, private schools or educational publishing, for example. Graduates have worked as a policy analyst, researcher, fundraiser, in community programs serving children and families, workforce development, religious centers, rehabilitative services, adult education centers, charities, prisons, and hospitals or gone on to pursue graduate studies in a variety of educational fields. Program details include core courses and then many options to specialize and form your own interdisciplinary degree. Examples include business oriented courses such as Grant Administration & Resource Development to teaching early childhood with Early and Emergent Literacy in Preschool Education.
Tuition is $425 per credit which is very reasonable. Average early salary is lower at $34,600. With SPC's 100 percent online and moldable interdisciplinary approach, this may be the perfect fit.
10. Ashford University
The history of Ashford is one of adaptation and innovation. Founded in 1918 by the Sisters of St. Francis in Clinton, Iowa as a women's junior college called Mount St. Clare College it is now Ashford University, an online for-profit university headquartered in San Diego, California. The School enrolls about 50,000 online students. Ashford is accredited by the WASC Senior College and University Commission.
The Bachelor of Arts in Education Studies is a foundation in instructional skills, communication, group behavior, and human development. The way it works at Ashford is 43-credit general core, followed by a 36-credit Education Core which includes courses in education, psychology, and special education. Then you choose 41 credits in one of five concentrations: Child Development, Early Childhood Education, Education and Public Policy, English Language Learner Studies, or Instructional Design. Upon completion of the program, you can begin work in many non-licensure educational settings because you will have broadly applicable skills curriculum, instruction, assessment, teaching diverse learners, and apply foundational research skills. The Education Studies degree at Ashford does not offer specific educational training for corporate or business settings but chiefly focuses on school settings such as teacher assistants, aides, and other related positions.
According to Payscale, the average early salary of Ashford graduates is $45,351. This complements the $452 per credit tuition maintaining a favorable long-term investment.