How to Choose a Teaching Program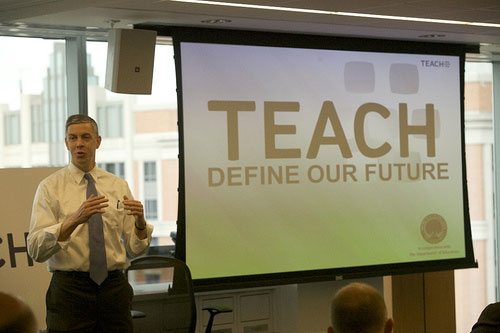 (Via)
The best teachers pursue degrees from programs that are respected and offer valuable training and experience. After all, the goal of any teaching program is to refine students' skills and help them one day find great jobs. There are different schools with different degree programs. It is important that would-be teachers take the time to research different education programs to find the right one for him or her. To do this, students need to consider the reputation of the teaching program, its curriculum, internship and job placement options, and online class options.
Accreditation and Reputation
Accreditation means that the teaching program has met the standards of specific groups. It is important that schools have both regional and national accreditation by such groups as the National Council of Accreditation for Teacher Education (NCATE). Similarly, students should research the reputation of the school and its professors within the teaching world. Enrolling and graduating from a respected school makes it easier to secure great jobs.
Curriculum and Scheduling
Students often need flexibility when it comes to the class schedules and responsibilities. It is important to look into whether or not any past credits will transfer, when classes take place, and which courses are required. Students need to consider their own interests when reviewing the curriculum to make sure that the courses speak to their specific interests. Some students are interested in specific age groups and types of school. This should be reflected in the required and optional course selections.
Student Teaching Opportunities
It is important to review the internship and student teaching options offered by the school. This is an important piece of any teaching degree program. The best schools give people a range of options: from public schools to private schools. The goal of such placements is to give students hands-on experience working in a school environment. It is important that students placed in schools have experienced mentors, receive feedback, and have the resources they need to succeed.
Career Placement
The best schools help students find jobs after graduation. This is why it is important to look into job placement rates for different institutions and to research where alumnae are working. Many schools after career counseling services like resume and cover letter editing, interview preparation, and more. This increases the likelihood that graduates will find jobs after graduation.
Financial Aid Packages
Financial aid is always a huge consideration for students of all ages and backgrounds. It is important to review scholarships offered by different schools, read reviews about the institutions' financial aid, and to see what packages are given. Staying out of debt takes work, but it is possible with hard work and research. Students should always take the time to call and talk with financial aid counselors. This is a chance to express one's needs and really explore everything from financial aid packages to payment plans. School can be affordable if people are proactive and look into all of the available resources.
Online Classes
Many schools today offer online classes to students. This makes it easier for students to balance work, school, and family responsibilities. After all, a person can log into class when it is convenient for him or her. Online classes mean that a school understands that students need a flexible way to earn their degree. It is important to research which classes are available online.
Reputation of the Professors
The best schools have experienced faculty at the helm. This is why it is important to review the faculty of any institution one is considering. The best teachers have classroom experience, understand their field, and have a reputation for being experts in their field. It is easy to research the reputation of different professors online – here, one can read what past and current students have to say and research the educators' experience.
Visit the School
If possible, students should always visit the school. This means doing everything from talking to representatives and taking a tour to exploring schools' websites. Students need to get a feel for the campus, the students, the teachers, and the culture of the school. This ensures one understands what different degree programs are about. With enough research, one will orient him or herself to the various options.
It is important to take one's time when choosing between teaching programs. There are many accredited groups out there. Finding the right degree program means thinking about what one wants from this experience. Some students want to get their degree quickly whereas others need a flexible way to gain credits and experience. The best schools have experienced faculty, teaching placements, and career guidance. All of this prepares people for their future. The right school nourishes people so that they can best understand their field. This prepares students for a life in the classroom.