Early Childhood Education
If you are seeking a career in special education, odds are you have something unique in your character. Your drive is much deeper drive than money.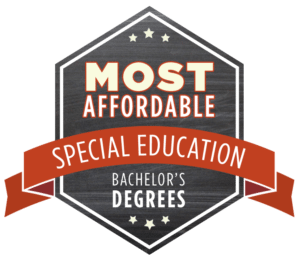 This elemental human force of compassion and love for each person is at the heart of the special education teacher. This drive is what will power you through your training to become a teacher, the piles of paperwork, the daily frustrations, and the emotional strain.
With all that in mind, we have compiled this list to help you find the most affordable schools to earn your degree in special education. With your degree, you will be able to receive your certification to teach in public schools. For more education programs offering exceptional tuition value, take a look at our Most Affordable Online Bachelor's in Elementary Education Degrees ranking.
You can count on a median annual wage of $57,910. According to the Bureau of Labor Statistics, among special education teachers, "The lowest 10 percent earned less than $37,760, and the highest 10 percent earned more than $93,090."
What is your methodology in compiling this list?
This list is based purely on price. We calculated the cost per credit and ranked the schools starting with the least expensive. All of the schools ranked on our list are accredited. Interestingly, all of the programs on this list are online programs, even though traditional programs were considered. Best of luck to you!
1. Fort Hays State University
Fort Hays State University enrolls 15,000 students studying 60 undergraduate and 19 graduate majors. FHSU's 6500 students also take dozens of outstanding online offerings through the Virtual College. The School is located in Hays, Kansas.
The Virtual College provides a BS in Elementary Education with a minor in Special Education K-6. With high demand throughout Kansas and across the country, earning your degree at FHSU is timely. The BS does lead to licensure in the state of Kansas. Those out of state are recommended to check regarding if a Kansas license transfers. The program features a unique Teacher Residency, an immersive, hands-on educational experience. The 21-credit minor's student teaching is completed in partnership with local schools. FHSU faculty also provide critical feedback throughout the coursework and fieldwork. There is no doubt that your preparation of general elementary combined with special education will set you up to help young boys and girls with confidence on day one.
With the lowest tuition on our list at $207 per credit and the online quality that's nationally recognized, FHSU is our #1 most affordable online degree in special education. FHSU is NCATE accredited. The Virtual School meets national standards and school districts recognize the quality of the degree the same as an on-campus degree. FHSU's Virtual School is ranked #15 by U.S. News and World Report for Best Online Schools; this recognition proves the University knows how to educate in the 21st century.
2. Western Governors University
Western Governors University, headquartered in Salt Lake City, Utah is an online, nonprofit university founded in 1997 by 19 U.S. governors. It was established for working adults in our increasingly mobile and digital society. The educational model is competency-based learning, which means the focus is concrete and hands-on, as opposed to abstract or theoretical. There are nearly 79,000 total students.
WGU offers their BA in Special Education K-12 entirely online. The program will take approximately 20 hours per week, and if you enter with some previous college education, 2-5 years; the degree is 137 credits. The pace and schedule depend on each individual. Do note that the demonstration teaching and the cohort seminar are offered twice each year, in the fall and spring and are on-campus. Through the WGU competency-based model every student benefits from a personal mentor giving guidance and help along the journey.
Western Governors University is known as the first entirely online university to receive NCATE accreditation for its teacher licensure degree programs. Additionally, WGU is recognized by the Council for Exceptional Children (CEC). The average early salary is $49,910, and the University has the second lowest tuition on the list at $240 per credit making the ROI one of the best.
3. University of Southern Mississippi
The University of Souther Mississippi was founded in 1910 and is located in Hattiesburg, Mississippi, only 105 miles northeast of New Orleans. The University has six other campuses. Fifteen thousand students represent 74 foreign countries at USM; these students can choose from 180 programs through six degree-granting colleges.
The Bachelor of Science in Special Education at the University of Southern Mississippi leads to licensure and prepares individuals to teach students K-12 with mild to moderate disabilities such as Aspergers, learning disabilities, mild autism, and physical, hearing or visual impairments. The program, through the Department of Curriculum, Instruction and Special Education offers coursework online; however, during the junior and senior year, all students are required to attend practicum and student teaching experiences either in the Hattiesburg or Gulf Coast area. Exceptions are possible but certainly don't count on it. Students who are out of the area should discuss this with the program advisor before beginning study. The BS in Special Education at USM will prepare teachers who are highly skilled and prepared to work with special needs students.
The $339 cost per credit places the University of Southern Mississippi at #3 on the list. Please note that this program ranks #38 by the NCTQ, which lends credibility to the program. NCATE also accredits the program.
4. City University of Seattle
City University of Seattle is a non-profit, private university that offers 60 degrees through online and traditional education. There are approximately 6,400 students, and 30 percent of these students study online. The University is located in the picturesque Seattle, Washington. The University is divided into the School of Management, Albright School of Education, the Division of Arts/Sciences and Management Institute.
City University of Seattle offers a Special Education Endorsement primarily designed for teachers who are certified. The endorsement is 24 credits and will prepare educators to work with special needs students. Although focused on certified teachers, the program can add to a bachelor's degree for initial certification. Students will be required to complete both face-to-face learning along with online studies. Classes focus on Individualized Education Programs (IEPs), special education law, assessment and evaluation tools, inclusion, and teacher collaboration. Ninety-four percent of alumni report experienced and effective faculty in the field, and 91 percent complement the program by saying that what they learned was directly relevant for reaching their professional goals.
With the fourth lowest tuition of any program we found, the cost per credit at CityU is $340. The University was ranked #45 by U.S. News and World Report for Best Online Schools. The $45,100 average early salary makes the ROI at CityU worth considering.
5. University of Maine
With their 15 Signature and Emerging Areas of Excellence, the University of Maine is poised to reach the next level in higher education. Founded in 1868, UMaine has grown to educate 11,000 students through 100 majors and programs, 70 master's, and 30 doctoral degrees.
At UMaine, the online special education offering is a unique collaboration led by University College, the online school of the UMaine System. This System connects all online learners to amazing faculty and utilizes the best technology available. Teaming up to offer the BA in Liberal Studies with a Special Education Endorsement, UMaine at Machias (UMM) and UMaine at Augusta (UMA) work together with Maine's Department of Education. Their work aims at preparing special education teachers who can assess, adapt, and guide children effectively in our changing world. The Liberal Studies portion is 121 credits, and the Special Education piece is 27 credits plus 12 credit hours of student teaching. This 160-credit total is one of the most robust programs we've found. The curriculum includes classes in Special Education Law, Assessment in SPED, and Program Planning and Curriculum Adaptation, and more.
Maine's $349 per credit tuition and $50,600 average early salary is one of the best ROI's on our list, hence the #2 ranking. "Our specific criteria for this rank is 60 percent for tuition and average early salary. UMaine's University College is accredited by the New England Association of Schools and Colleges.
6. Mayville State University
With the iconic Old Maine set on a beautiful 300 acres in Mayville, North Dakota, Mayville State University has the college feel. Established in 1889 as a normal school, MSU has been teaching teachers for well over a century. It helps that MSU's 1100 students enjoy a student to faculty ratio of 13 to 1. Worth mentioning as well is that MSU was the first university in the nation to become a tablet PC campus where all faculty and students use a tablet.
A great opportunity exists at MSU for those licensed and for those who are not licensed seeking to enter the field of special education. The two opportunities at MSU are a BS in Special Education for currently licensed teachers who wish to gain their certification in special education. This option is 100 percent online. The other choice is for those who are not licensed. It is a dual-major BS in Early Childhood, Elementary, or Secondary and Special Education. This degree is which is delivered in a blended format. If you are attending another school in North Dakota, but like what MSU offers, you are in luck because through the North Dakota University System you can stay at your current school and earn your BS in Special Education at MSU completely online. Lastly, MSU is transfer friendly and will accept as many credits as possible towards your BS in SPED. "Mayville State is working with community and technical colleges in North Dakota, Minnesota, Wyoming, Arizona, and Washington."
MSU's accreditation by NCATE and the Higher Learning Commission (HLC) boosts the program credibility for you and your future employer. The $365 per credit and $64,407 average early tuition ensures a very good ROI.
7. Old Dominion University
"Where the city meets the sea" in Norfolk, Virginia you'll find Old Dominion University. Known for an excellent education, the University offers 25,000 students 70 bachelor's degrees, 54 master's degrees, and 42 doctoral degrees. ODU also offers 100 online programs through ODUOnline. All in all, Old Dominion's impact is real with an economic impact of $2 billion annually.
At Old Dominion Online you can take classes online on a regular schedule and access course materials online from any location (synchronous learning). ODUOnline's BS in Interdisciplinary Studies, Teacher Preparation with Licensure in Special Education K-12 is 40-41 credit hours for major content plus 42 credit hours of professional education (including student teaching). Students move from the General Core to special education classes like Collaboration & Transitions, and Language Acquisition & Reading for Students with Diverse Learning Needs. Student teaching experience is accomplished at local schools with a ODU advisor during the regular school year. One drawback to this program is that it is limited in scope. The BS program is designed only for those in Virginia and Washington State.
With a strong reputation with recognition for ODUOnline by U.S. News and World Report and College Choice, this degree is worth a look (if you live in Virginia or Washington State). Financially, ODU is hard to beat. With the average early salary ten years after graduation at $45,200 and tuition at $369 per credit, you know your ROI is good.
8. Liberty University
From the founding in 1971 to 2017, Liberty University has had astronomical growth. Liberty University is the largest Christian University in the world with a total enrollment of 110,000, with 94,000 enrolling online. LU offers hundreds of degree options without sacrificing quality.
Liberty University makes no bones about their Christian faith. This evangelical powerhouse integrated a Christian Worldview in all their classes. The 121-credit BS in Special Education, Interdisciplinary Studies is offered at Liberty but does not lead to licensure outright. It was designed to transition into MAT option in the 5th year, which does lead to certification. This option may be precisely what you need, however, as many states require a master's to teach in special education, while others require a graduate degree to maintain it after so many years. Either way, starting out with a BS and MAT may be what you're looking for. The BS program also only recommends a practicum experience and doesn't require it. You can also use the BS degree for teaching at private schools, homes, or churches. Lastly, the Association of Christian Schools International (ACSI) recognizes the BS in Education for an ACSI Certificate.
Liberty University not only offers effective programs, but they also do so in a way that makes financial sense. The tuition is $390 per credit which is affordable and the $53,600 average early salary is attractive. Lastly, it is worth knowing that Liberty is NCATE accredited.
9. Midway University
Midway University, in Midway, Kentucky, is a small school that enrolls 1200 students. A working farm surrounds their 200-acre campus. The University is known for excellent study abroad programs in service learning and equine-study. MU is divided into three schools: Arts & Sciences, Business, Equine & Sports Studies, and Health Sciences.
The special education option at Midway is offered online but may require some campus visits depending. Be sure to check with an academic advisor or program director regarding details. Here's how it works at MU: You choose a major in education—elementary (P-5), middle (5-9) or secondary education (9-12), and then add the Learning and Behavior Disorders endorsement (LBDE). The LBDE program is 21 credits and complements the professional education coursework in any of the BS programs mentioned above. The program is designed for training teachers to work with mild to moderate disabilities and includes classes such as Children and Youth with Exceptionalities in Regular Education, Characteristics of Children and Youth w/Learning Behavior Disorders, Materials and Community Resources for Children and Youth w/LBD, and Instructional Technology. The synchronous online option starts throughout in August, October, January, March, and May giving you the ability to start when it works best for you.
Accredited by Kentucky Educational and Professional Standards Board (EPSB), Midway University is worth consideration. It is ranked #44 by the NCTQ, known for their rigor, and financially the package is affordable. Tuition is $415 per credit, and the average early salary is $40,000.
10. St. Petersburg College
St. Petersburg College is located in Pinellas County, Florida and is part of the Florida College System; SPC has eleven campuses and centers, offering 65,000 students more than 100 bachelor's, master's and doctoral degrees. Since SPC is a "state college" many students are part-time (72 percent), and the average age is 28.
The BS in Exceptional Student Education (ESE) prepares you to teach students with mild to moderate disabilities in grades K-12 with the bonus of earning an ESOL endorsement as well. The online/blended, part-time or full-time program features general education coursework with a professional core followed by 34 credits specifically designed for the Exceptional Student portion. To add the ESOL endorsement, something that significantly increases your marketability, you would take six credits and do a capstone project. The BS in ESE does include a 15-week student teaching experience as well. Advantages of an SPC degree are small class sizes with faculty that is available, accessible and professional, a flexible format, and an exemption from the 300-hour ESOL Pinellas County training requirement.
SPC is accredited by the Southern Association of Colleges and Schools Commission on Colleges (SACS-COC), and the College of Education is accredited by the Florida Department of Education. Tuition is affordable at $425 per credit, and the average early salary is attractive and a good ROI at $41,800.